Americas Society
Council of the Americas
Uniting opinion leaders to exchange ideas and create solutions to the challenges of the Americas today
Carlos Fuentes (1928-2012)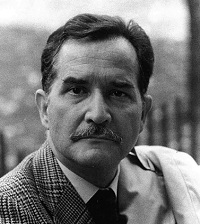 "Nothing disappears completely, everything is transformed."
—Carlos Fuentes, Terra Nostra (trans. Margaret Sayers Peden)
Americas Society mourns the passing of Mexican author Carlos Fuentes, who died on May 15, 2012 in Mexico City at the age of 83.
Renowned for classic novels such as La region más transparente (1958; Where the Air is Clear, 1960), Aura (1961; Aura, 1962), and La muerte de Artemio Cruz (1962; The Death of Artemio Cruz, 1964), Fuentes became celebrated as one of the chief exponents of and major influences on the Latin American Boom of the 1960s and 1970s. This phenomenon was characterized by an explosion of formally and thematically innovative writing and included authors such as Guillermo Cabrera Infante (Cuba), José Donoso (Chile), Gabriel García Márquez (Colombia), and Mario Vargas Llosa (Peru). Fuentes' and the other Boom authors' work exploded not only throughout Latin America, but also reached an international audience. He produced an astonishing output of novels and short fiction, which included the novels Cristóbal nonato (1987; Christopher Unborn, 1989) and Gringo viejo (The Old Gringo, 1985), the latter of which was subsequently produced into a film with Gregory Peck and Jane Fonda. Fuentes also wrote plays, screenplays, and essays (e.g., Myself with Others, 1988), and regularly contributed articles on politics and culture to Mexico's Reforma and Spain's El País, among numerous other outlets. His literature garnered the most prestigious awards in Mexico, Spain, France, and elsewhere, including the Xavier Villaurrutia Award (1976), the Rómulo Gallegos Award (1977), the Miguel de Cervantes Prize (1987), the Legion of Honor (1992) and the Príncipe de Asturias Award (1994). In addition to his career as a writer, Fuentes served as ambassador to France from 1975 to 1977.
Americas Society had a long history with Fuentes in his capacity as a writer, particularly through its Department of Literature. His novella
Holy Place—
along with short fiction by Chilean writer José Donoso and Cuban author Severo Sarduy—was translated by Suzanne Jill Levine through the Society's translation subvention program and published as
Triple Cross
by E.P. Dutton in 1972. Fuentes was an invited speaker at the Society over the years and his work, as well as reviews of it, was featured in the Society's acclaimed journal,
Review
(now
Review: Literature and Arts of the Americas)
. Among these publications were an article by the author entitled "William Styron in Mexico" in
Review
17 (Spring 1976), a focus on Fuentes's award-winning epic
Terra Nostra
(1976) in
Review
19 (1976), and a selection from his novel
Christopher Unborn
, translated by Alfred Mac Adam, in
Review 35
(July-December 1985). The Society's
Department of Literature
maintained an important link with Fuentes through his working relationship with Mac Adam, who translated many of the author's novels as well as serving as
Review
's editor from 1984 to 2000. Fuentes also received the 2008 Americas Society Gold Medal.
He will be remembered for his far-ranging and distinguished literary career, as well as for his personal elegance, his image as an international celebrity, and for his generosity toward others in the literary community and beyond. Carlos Fuentes is survived by his wife, Silvia Lemus, and his daughter, Cecilia Fuentes Macedo.