Beyond Geometry: An Extension of Visual-Artistic Language in Our Time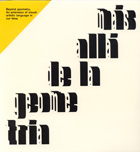 This exhibition catalogue features Argentine abstract art of the 1960s by artists such as Ary Brizzi, Oscar Bony, David Lamelas, Lía Maisonnave, Eduardo Mac Entyre, Gabriel Messil, César Paternosto, Alejandro Puente, Rogelio Polesello, Eduardo Rodríguez, Carlos Silva, María Simón, and Miguel Angel Vidal. It also includes essays by Stanton L. Catlin, Enrique Oteiza, and Jorge Romero Brest. It was co-published by the Instituto Torcuato Di Tella, Buenos Aires. 
1968 40 pp. 15 b/w illus.