AS/COA Insider: Holly K. Sonneland on Chile's Presidential Runoff
"This election was a testament to the strength of Chilean democracy," says AS/COA's Holly K. Sonneland, who reflects on the smooth electoral process and ways the results reflected polling.
Chileans went to the polls for a presidential runoff on December 19 in which Broad Front candidate Gabriel Boric won with 55.87 percent of the votes, more than 11 points higher than the Christian Social Front candidate José Antonio Kast in an election that saw the highest levels of turnout since voting switched to voluntary in 2012. Boric will become the youngest president in the history of Chile when he takes office on March 11, 2022.
AS/COA Online's Holly K. Sonneland has been tracking the polls and explains here how they were reflected in the results, what challenges the upcoming president will face, and why the competition stood out as an example for democracy for the region.
---
---
AS/COA Online: You followed the polls ahead of the first and second rounds. Kast won the first time around and, traditionally, that candidate has gone on to win the presidency. What happened this time? How did the polls reflect in the results and why was this a historic vote?
Holly K. Sonneland: Kast very successfully took over the right side of the electorate from Sebastián Sichel in the runup to the first round, but in the runoff he wasn't able to win over enough of the center. According to one Cadem poll taken days ahead of the race, Boric won independents by 10 points and self-identified centrist voters by five. Also, Kast definitely won the first round but it wasn't a runaway by any means, and he and Boric were just a couple points apart and, combined, barely took half of the vote. That meant there were a ton of voters, mostly from the center, who both were courting. Kast made a huge effort to court the 900,000 voters who cast a ballot for Franco Parisi, who finished third in the first round. But even though Parisi endorsed Kast on the eve of the election, the polling showed that more Parisi supporters were going to Boric than to Kast.
There was a fair amount of polling that indicated Kast had a firm ceiling of support, too. Voters, on the whole, were pretty split on Boric—half viewed him favorably, half didn't in the weeks right before the second round—but they viewed Kast unfavorably by a rate of 2 to 1.
This election does mark a new chapter in Chilean politics, in that it was the first race in years where there was no candidate from a centrist coalition. And in the last four years, aside from the pandemic, nothing has shaped Chile more than the 2019 protests, which Boric represented to voters more than any other candidate. The results from this election—and the vote for representatives to the Constituent Assembly—show dissatisfaction for "business as usual" runs deep, and that the momentum from those protests is integrated into mainstream Chilean politics. Four years ago, polls underestimated support for the presidential candidate from Boric's Frente Amplio. This year, Boric's support in the vote was a bit stronger than polls indicated. All to say, those who protested two years ago appear to have been successful in shifting that energy to the polls.
AS/COA Online: What did voters express concern about in electoral polling and how may that have shaped results?
Sonneland: Voters were concerned about issues like crime, security, and immigration and, in the regions most affected by those—Tarapacá in the north, Araucanía in the south—Kast won. But also, some of the concerns about immigration, for example, were more transient. They peaked in line with Kast's rise, when news about immigration was high, but then interest fell almost just as rapidly.
What also caught my eye, however, was the economy. Chileans, based on what they told pollsters, didn't feel economic anxiety the way some voters felt anxious about immigration. Most Chileans felt their own economic situation was so-so, but they were hopeful about their economic future: they expect their economy to grow in the next year by a factor of about 3 to 1. This positive sentiment about economic growth will be one of the most important metrics for Boric to keep an eye on during his term.
Also interesting to me was to look at demographics. Boric had a big margin with women, and then he ran about evenly with Kast with men—so Kast had no net advantage with gender. And with age too, we saw the same thing: Boric had a huge margin with young voters, but Kast only had small ones with older ones.
Pensions are a concern and debate about a fourth withdrawal from pension funds really dominated the first round and also affected Sichel, which led Kast to take over for him as the candidate from the right. Because that measure died in Congress just before the second-round vote, that issue fell off from the table.
Some did see Boric as speaking to some of the fundamental issues at stake and a breaking from business as usual. It seems that a lot of voters don't want to keep going with what the status quo is.
AS/COA Online: Boric announced structural changes, done with "responsibility and gradually." But what are the chances for change? What kind of opposition will he face in congress?
Sonneland: Either Boric or Kast was going to face a complicated scenario where nobody has the majority in the legislature, so Boric will spend most of his time negotiating with Congress. But he's shown himself, both in Congress and as a candidate, to be adaptive and change tack when necessary. But the other huge thing that will play to his advantage will be that he gets to oversee the voting on and, if passed, implementation of the new Constitution currently being drafted by the Constituent Assembly. They're due to finish up debating and writing it by the middle of 2022, so just a few months after he gets into office in March, and that could have some profound effects on Chilean society and the economy.
One thing that is really worth highlighting is that this election was a testament to the strength of Chilean democracy. In particular, on Sunday, Kast was quick to recognize the results; he called Boric early in the evening to recognize his win and offer his support. He was gracious in his concession speech and clear to his supporters that Boric had won. That, along with the concession in the Honduran presidential race in November are two encouraging indicators for the strength of democracy in Latin America in 2021.
This interview has been edited for length and clarity.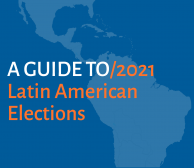 A Guide to 2021 Latin American Elections
In 2021, ten countries in Latin America hold elections—five of them presidential contests—while reeling from the pandemic's devastating impact.