AS/COA Insider: Carin Zissis on Expectations for U.S.-Mexico Security Talks
The AS/COA Online editor-in-chief covers why the neighbors will reexamine the Merida Initiative during cabinet-level talks on October 8 in Mexico City.
A number of U.S. cabinet members will head to Mexico City this week for security talks on October 8. It's expected that officials from the two countries will bring an end to the Merida Initiative, the $3.3 billion cooperation agreement inked at the start of Mexico's drug war in 2007, and start a new chapter in security cooperation. What are expectations for the meeting, as well as for what comes next? AS/COA Online Editor-in Chief Carin Zissis covers where security ties stand as the two sides come together in Mexico City.
---
---
AS/COA: What is the context for the October 8 bilateral talks?
Carin Zissis: The two countries held a High-Level Economic Dialogue in September, which are bilateral cabinet-level meetings. They were initially established in 2013, then suspended during the Trump administration and they're now back, so those set the stage for this meeting. These talks are known as the High-Level Security Dialogue. Now, it's positive they are being held because it's a step toward enhanced cooperation, but it comes after some recent challenges in terms of bilateral security relations.
Last year, U.S. authorities arrested former Mexican Defense Minister Salvador Cienfuegos when he arrived in the United States on a trip to California over alleged ties to organized crime. It's generally felt that Mexican authorities were not happy about that, and they felt left out of the loop in the DEA investigation against him. In the end, Cienfuegos was returned to Mexico and charges were dropped, but after, the Mexican government passed legislation that limited the ability of foreign agents to operate in Mexico. Many saw that as a blow for bilateral cooperation, especially after years of collaboration through the Merida Initiative.
All of that created some tension and in recent weeks, Foreign Minister Marcelo Ebrard has been saying that the Merida Initiative is dead. It's expected that when he hosts his counterpart, Secretary of State Antony Blinken, as well as Homeland Security Secretary Alejandro Mayorkas and Attorney General Merrick Garland, that they will be coming together to focus on the next steps for a new initiative.
AS/COA: Has the Biden Administration given any signals that they want to also terminate this Initiative?
Zissis: I think that there's likely agreement on both sides that they need to reexamine the Merida Initiative.
From the Mexican side, it was formed in 2007 during the administration of President Felipe Calderón, who was a political opponent of current President Andrés Manuel López Obrador, so there's an aspect of looking at the past and saying, "I want to do away with what my predecessor did."
Then, for both sides, you have another looming issue, which is that right now Genaro García Luna, the head of security during the Calderón administration and a critical figure in the implementation of the Merida Initiative, is facing charges in New York for being part of a huge criminal enterprise.
There's also the fact that both sides can see there is the problem of ongoing violence. The Initiative started in 2007 with the idea of strengthening bilateral action to take on drug trafficking organizations. Now, 14 years later, we still see ongoing violence tied to Mexico's drug war, with hundreds of thousands of lives lost and nearly 100,000 people disappeared over the course of this time, as many have likely seen in The New York Times this week.
So, for both sides, just as NAFTA was recently reexamined years after its implementation, they're also looking at something that started some time ago and it's time to stop and look at what has worked and what hasn't worked.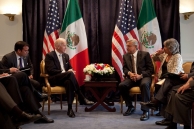 LatAm in Focus: What's on the Horizon for U.S.-Mexico Ties in a Biden Administration
COMEXI President and Mexican ex-Deputy Minister for North America Sergio Alcocer covers how the two governments will handle trade, security, immigration, and more.