Agencia EFE escribe sobre Bispo Do Rosario: All Existing Materials on Earth
"Muchas de las obras…beben de la fe cristiana y las artes populares africanas," escribe Nora Quintanilla sobre la exposición de la Americas Society.
El artista afrobrasileño Artur Bispo do Rosario pasó medio siglo en un psiquiátrico desarrollando la misión divina de catalogar el universo y, a su muerte, dejó una extensa obra que le ha merecido renombre internacional y que aterriza mañana en la Americas Society (AS/COA) de Nueva York.
La carrera artística de Bispo do Rosario (1909–1989) va ligada a su enfermedad mental: comenzó después de que, a los 29 años, sufriera unas alucinaciones que le hicieron creer que Dios le había enviado a una misión para organizar el caos, tras lo que le diagnostican esquizofrenia paranoide y eso le hizo pasar el resto de su vida institucionalizado.
Para Aimé Iglesias Lukin, directora y curadora en jefe, la fascinación por él tiene mucho que ver con las cuestiones sobre qué es arte y quién puede ser artista, ya que sigue un "camino distinto" dada su historia personal y aún así se convierte en "símbolo del arte contemporáneo y del 'outsider' art" (marginal).
"Todos los materiales que existen en la Tierra", su primera gran exposición en solitario en Estados Unidos, abarca unas 70 piezas destacadas de la colección de más de un millar que produjo en ese psiquiátrico de Río de Janeiro, que sigue activo e incluye en su interior el Museo Bispo do Rosario Arte Contemporanea (mBrac).
En una pequeña celda de la Colônia Juliano Moreira, que él consideraba su "castillo", el artista recibió día y noche instrucciones de las voces que escuchaba y que le instaban a trabajar ensamblando objetos y bordando textiles con lo que tenía a mano en el hospital e intercambiaba con otros internos, desde sábanas hasta peines.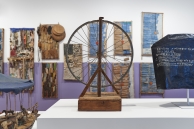 Bispo do Rosario: All Existing Materials on Earth at Americas Society
The show, which opened January 25, is the first solo exhibition in the United States of the Afro-Brazilian outsider artist.