North American Border and Competitiveness Initiative
As North American trade has skyrocketed under NAFTA, the importance of the U.S.-Mexico border has increased—and with it the urgency to strengthen efficiency, reduce congestion, and upgrade infrastructure. The Council of the Americas' North American Border and Competitiveness Initiative seeks to foster a public-private dialogue on deepening economic integration within North America and on improving management of the U.S.-Mexico border.
Under the personal leadership of Ambassador John Negroponte, COA launched this initiative with a private roundtable discussion in August 2012 in Laredo, Texas, the largest land port of entry by total trade value and volume. Participants included Ambassador E. Anthony Wayne, Ambassador Arturo Sarukhan, Congressman Henry Cuellar, and other leaders from the private, public, and non-profit sectors in both the United States and Mexico. 
In 2013, COA convened three public conferences focused on the U.S.-Mexico competitiveness agenda. In February, we partnered with the Institute of the Americas on a by-invitation-only site visit to Tijuana, Mexico, followed by a public conference in La Jolla, California, with panel discussions on the Mexican reform agenda and key cross-border business sectors. In June, we organized a Mexico Competitiveness Forum, including a private breakfast discussion and public panel discussions on Mexican innovation and cross-border investment. In August, we partnered with the University of Texas at El Paso and the office of Congressman Beto O'Rourke on a major public conference and private dinner in El Paso, where we hosted Wayne and Ambassador Eduardo Medina Mora as well as other public and private-sector leaders. With more than 500 participants plus live-webcast viewers, the conference received significant media attention. Subsequently, we have hosted a member-only program in Washington, DC with Managing Director of the North American Development Bank Gerónimo Gutiérrez.
Image: AP Photo.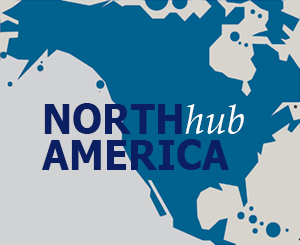 Learn more about AS/COA's North American activities at our North America Hub.
Two decades after the North American Free Trade Agreement went into force, dramatic changes in the global economy—including new production models, integrated supply chains, technological advances, and a revolution in energy production—spell a radically changed regional economic model. No longer do Canada, the United States, and Mexico merely trade together; now we design and make products together. Our economies are integrated to a point whereby "made in North America" is now the norm. And as China and other emerging economies rise, deeper North American integration becomes a strategic necessity to compete when it comes to production efficiencies, economies of scale, and comparative advantages.
To this end, we created this portal to showcase AS/COA's research and activities focused on the evolving North American relationship. Through initiatives, analysis, and congressional outreach, we promote the idea of North America as a vibrant partnership, while generating new ideas to strengthen the region as a growing economic space.
August 12, 2013
Highlights of the fourth event of the Council of the Americas border initiative, which aims to foster a public-private dialogue on improving management of the U.S.-Mexico border and deepening economic integration....