Established in 2010, Meridionalis is a choral project of Americas Society that focuses on early music and contemporary music from the hemisphere. The ensemble has been lauded for its "well-blended, joyous sound" and "beautifully rendered programs" by The New York Times. Most recently, their performances of Vivier's Kopernikus were hailed as "superb" (The New York Times) and "extraordinary" (Musical America).
Meridionalis Mission Statement
To promote little-known and rarely performed repertoire from the region, collaborating with expert musicologists across the globe on programs of sacred and secular choral music.
Read more in Early Music America about Sebastián Zubieta's work with the ensemble.
In May 2019, Music of the Americas presented a new production of composer Claude Vivier's chamber opera Kopernikus, performed by Meridionalis and the International Contemporary Ensemble conducted by Sebastián Zubieta, with live video by Sergio Policicchio.
In what Vivier described as a "ritual opera of death," the central character—a young woman named Agni—descends into a dreamworld where "mystical beings borrowed from stories gravitate around her: Lewis Carroll, Merlin, a witch, the Queen of the Night, a blind prophet, an old monk, Tristan and Isolde, Mozart, the Master of the Waters, Copernicus and his mother. These characters could be Agni's dreams that follow her during her initiation and finally into her dematerialization." Vivier abandons traditional modes of storytelling, drawing upon classical philosophy and sciences and telling his via sound, ritual, and symbol. The plot defies precise interpretation, offering multiple, often contradictory meanings. At the center of the quest is the composer's fascination with the perennial majesty of the cosmos and his belief that "art will no longer be the sweet panacea that we apply to a wounded body, [but] will be the body." The production—originally designed for a planetarium, premiered in Buenos Aires in 2018—joins Agni's trajectory, submerging the audience in light that emanates from celestial projections and abstracted nature footage.
The production was presented to critical acclaim in Buenos Aires and New York City.
About the composer
Born in Montreal, Claude Vivier (1943–1983) grew up in a working-class part of the city. As an adolescent, he attended a boarding school run by the Marist Brothers that prepared pupils for life in the priesthood. There, the young Claude discovered music while singing in a midnight mass, and he began to compose. He was advised to leave the seminary at the age of 18 due to his "sensitive and excitable temperament." He studied composition at the Conservatoire de Musique du Québec (Montreal) with Gilles Tremblay, and spent a few years in Europe at the Institute of Sonology (The Hague) and Hochschule für Musik (Cologne), where he had the opportunity to study with Stockhausen. He also traveled to Japan, Thailand, and Indonesia, whose culture and rhythms had a deep effect on his compositional output. After encountering spectral compositions of Gérard Grisey and Tristan Murail, Vivier traveled to Paris in 1982, where he was murdered the following year. Many of his compositions were not heard during his lifetime, and he remains a tragic figure in the canon of twentieth-century music.
About the visual artist
Sergio Policicchio (b. 1985, Buenos Aires) relocated to Ravenna, Italy in 2004, where he pursued studies in visual arts and mosaics at the Academy of Fine Arts. He lives and works between Italy, Argentina, and Moldova. Recent exhibitions include La visione dell'invisibile (solo, Vibra gallery, Ravenna, 2017); tsu-na-gu (collective, Shimadai gallery, Kyoto, 2016); Partiture eventual (site-specific installation, Emergenze creative 2015 in Ravenna); and Quelqu'un (collective, M comme mosaique gallery, Paray-le-monial, France, 2015).
The International Contemporary Ensemble (ICE) is an artist collective that is transforming the way music is created and experienced. Works by emerging composers have anchored ICE's programming since its founding in 2001, and the group's recordings and digital platforms highlight the many voices that weave music's present. A recipient of the American Music Center's Trailblazer Award and the Chamber Music America/ASCAP Award for Adventurous Programming, ICE was also named the 2014 Musical America Ensemble of the Year. The group currently serves as artists-in-residence at Lincoln Center for the Performing Arts' Mostly Mozart Festival, and previously led a five-year residency at the Museum of Contemporary Art Chicago. ICE was featured at the Ojai Music Festival from 2015 to 2017, and at recent festivals abroad such as gmem-CNCM-marseille and Vértice at Cultura UNAM, Mexico City.
Ephemera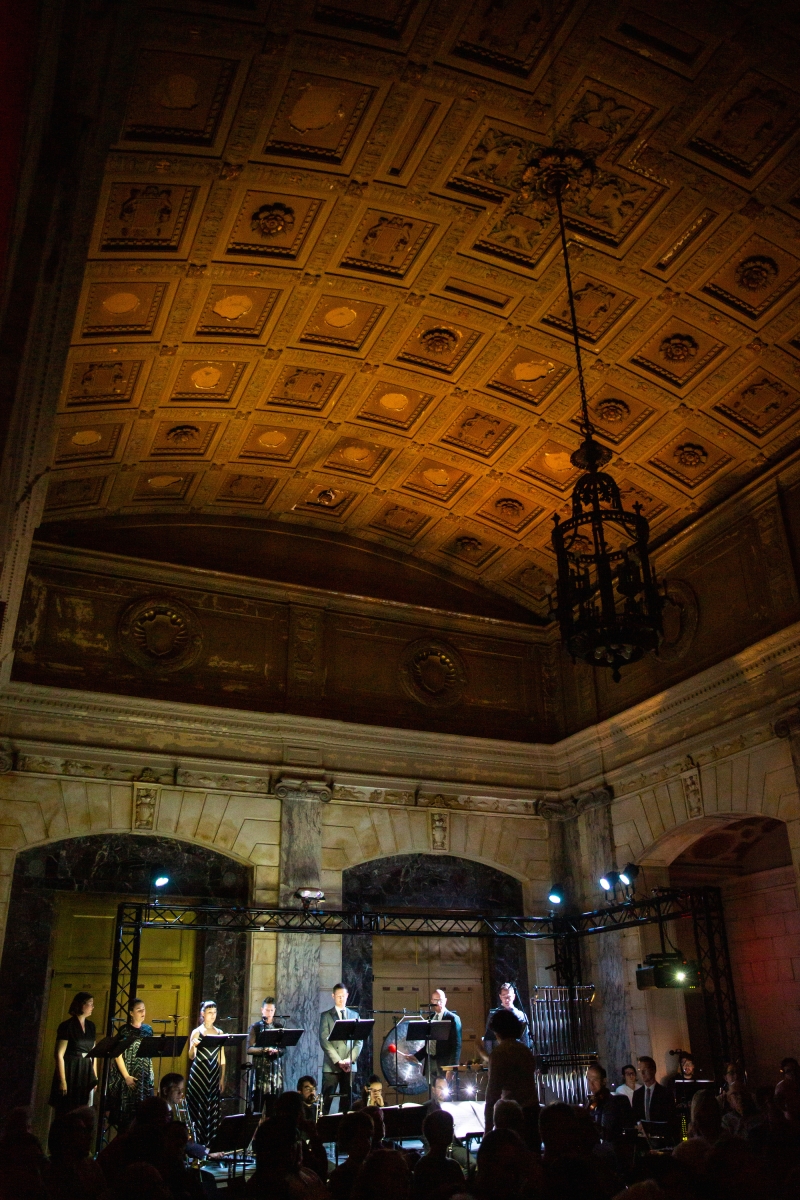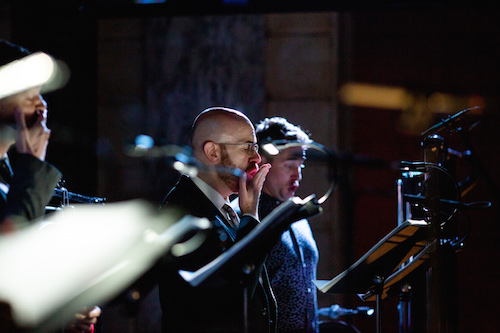 Kopernikus in Brooklyn (Images: Roey Yohai Photography).
Video edited by digitice.org media team.
Performers
Katharine Dain: Coloratura
Amy Goldin: Soprano
Hai-Ting Chinn: Mezzo-soprano
Kirsten Sollek: Contralto
Christopher Herbert: Baritone
Joseph Beutel: Baritone
Steven Hrycelak: Bass
Michelle Farah: Oboe
Joshua Rubin: Clarinet 1
Madison Freed: Clarinet 2
Zachary Good: Clarinet 3
Gareth Flowers: Trumpet
Michael Lormand: Trombone
Josh Modney: Violin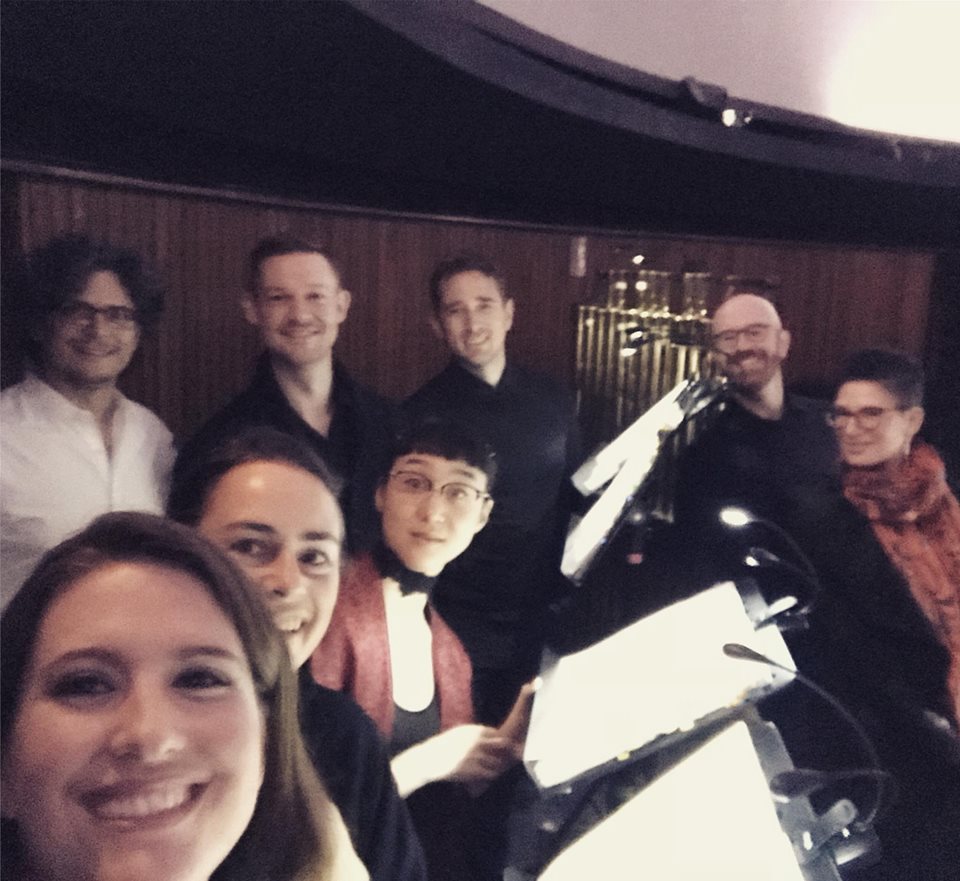 Meridionalis during rehearsal in Buenos Aires
Festival Nueva Ópera Buenos Aires 2018 billboard for Kopernikus.
Festival Nueva Ópera Buenos Aires 2018: Kopernikus

Pablo Ortiz Vocal Portrait at Americas Society, Meridionalis in Quito, Ars Longa and Meridionalis in Havana.

Album Release: Pablo Ortiz, Choral Works
On March 8, 2019, Naxos relased the album Pablo Ortiz: Choral Works, highlighting recent works for voices by Argentine composer Pablo Ortiz and featuring Americas Society vocal ensemble Meridionalis and keyboardist Taka Kigawa, led by Sebastián Zubieta. This album was produced by Judith Sherman and recorded at the American Academy of Arts and Letters.
Here are representative samples of the carefully curated programs presented by Meridionalis since its inception.
---
Pablo Ortiz: Vocal Portrait
June 1, 2017, at Americas Society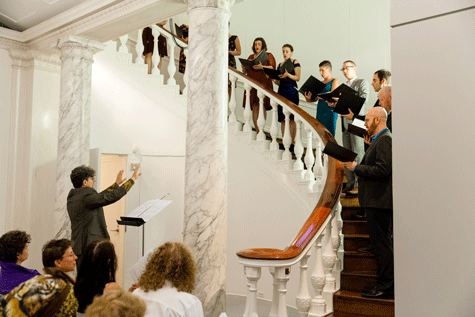 Meridionalis presented a vocal portrait of Argentine composer Pablo Ortiz, with whom they recorded a CD for Naxos. The concert included several East Coast premieres, and the US premiere of Maizal de gregoriano, which was commissioned by the Centro de Experimentación del Teatro Colón. The ensemble last collaborated with Ortiz on the US premiere of his chamber opera Gallos y huesos, under the direction of Sebastián Zubieta, in 2014 at HERE Arts Center.
---
Meridionalis: "Lágrimas que son tan bellas"
Collaborating musicologist: Bernardo Illari
May 18, 2017, at the Nave of the Church of the Intercession in collaboration with the Hispanic Society of America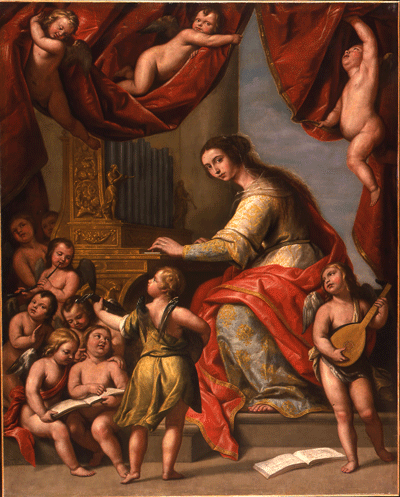 The program—drawn from the manuscripts and rare editions from organist Federico Alameda's collection, acquired by the Hispanic Society in 1910—was dedicated to tonos humanos for vocal soloists and instruments. This genre of secular song was very popular among Spanish baroque composers. Of particular interest in this program were pieces by Juan Hidalgo, one of the leading Spanish composers of the 17th century, whose music was almost completely lost when a fire broke out in the library of Madrid's Royal Alcazar where his compositions had been kept at the request of King Philip V.
Read more on the Hispanic Society's website.
---
Meridionalis: St. Rosa de Lima
Collaborating musicologist: Bernardo Illari
April 27, 2017, at the Nave of the Church of the Intercession in collaboration with the Hispanic Society of America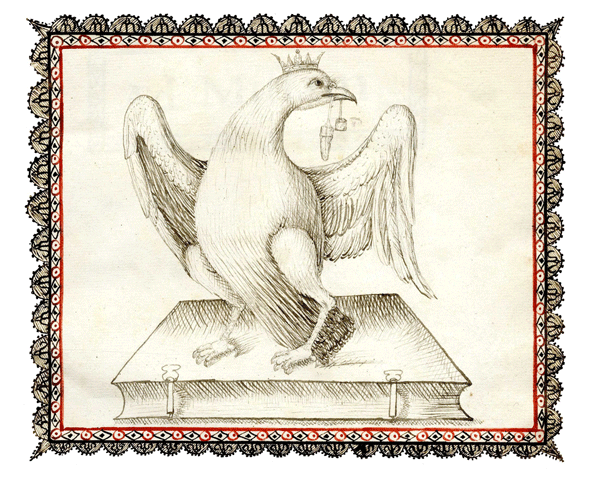 This program focused on the several examples of plainchant in the Olmeda collection, and was performed in the Nave of the Church of the Intercession, whose neo-gothic architecture and resonant acoustics provided an ideal venue for this repertoire. The Hispanic Society holds several remarkable pieces, including a Peruvian office for the feast of St. Rosa of Lima dated 1671 and various medieval and renaissance Missals from Saragossa, Madrid, and Salamanca.
Read more on the Hispanic Society's website.
---
Meridionalis Tour: Havana and Quito
Collaborating musicologist: Omar Morales Abril
April 1 in Havana and April 4–5, 2017, as part of the 16th Festival Internacional de Música Sacra de Quito, Ecuador

Meridionalis performed one concert in Havana, Cuba, and two concerts as part of the Música Sacra festival in Quito, Ecuador. The tour opened with Y de la esfera más alta…, a program prepared by Guatemalan musicologist Omar Morales Abril; the second program, Al sol de la tierra y cielo, was dedicated to music recently discovered in the Ecuadoran city of Ibarra, some 60 miles north of Quito and incorporated instrumentalists from Ensemble Lipzodes.
Read more in the printed program (PDF).
---
Meridionalis: Luna sin mancha, sol sin ocaso
Collaborating musicologist: Bernardo Illari
December 6, 2016, at the Hispanic Society of America

The concert was dedicated to polychoral music by composers such as Tomás Luis de Victoria, Juan de Madrid, Mateo Romero, Diego de Cáseda and Manuel de Egüés. Music for 8 or more vocal parts with instruments was an important part of Spanish liturgical music throughout the baroque period. The main cathedrals in all corners of the empire regularly presented imposing music that took advantage of the space and acoustics of the temples.
Read more on the Hispanic Society website.
---
Polifonía en Guatemala y Bogotá
Vísperas y Misa de San José en la Puebla de los Ángeles
Collaborating musicologist: Bernardo Illari
February 20–21, 2016, as part of the 11th Festival de Música Antigua Esteban Salas in Havana, Cuba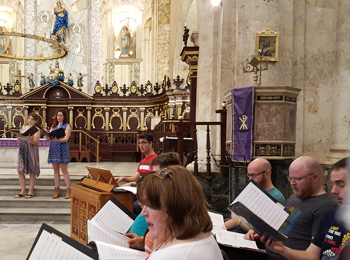 The first program drew from the ensemble's extensive vocal repertoire from the hemisphere, including pieces by Pedro Bermúdez, Mateo Flecha, and Gutierre Fernández Hidalgo. For the closing night of the festival, Meridionalis collaborated with Ars Longa on a sumptuous program of music from the colonial period in Mexico, including works by Juan Gutiérrez de Padilla, Gerónimo Vicente, Manuel de Sumaya, and Antonío de Salazar.
Read more in the printed program (PDF).
---
Con la armonía del cielo: Christmas in Guatamala
Collaborating musicologist: Omar Morales Abril
December 29, 2015, at Trinity Wall Street as part of Twelfth Night Festival

The villancico is a poetic and musical form that was extremely popular in the courts and churches of the Spanish empire from the sixteenth to the nineteenth centuries. They were particularly favored at Christmastime. The diocese of Guatemala was one of the first established by the Europeans in the Americas. Developed in collaboration with Guatemalan musicologist and colonial music expert Omar Morales Abril, "Con la armonía del cielo" features Christmas music from the archive of the Diocese of Guatemala, founded in 1534, including works from Guatemala, Mexico and Spain.
Read more in the printed program (PDF).
---
Francisco López Capillas
Collaborating musicologist: Bernardo Illari
April 27, 2015, at the Hispanic Society of America
Born in Mexico City around 1615, Francisco López Capillas belonged to the first generation of distinguished composers and chapelmasters born in the Americas. The first documentation of his professional activities comes from Puebla, where he was organist and bassoonist under Gutierrez de Padilla from 1641 to 1648. He left Puebla in 1648 and became acting chapelmaster in Mexico City in 1654, scarcely a week after the death of his predecessor Fabián Pérez Ximeno, and was unanimously elected chapelmaster there shortly thereafter. Over the next several decades, he wrote music for the Mexico City cathedral, including a spectacular mass major for the cathedral's consecration in 1656 and seems to have successfully navigated the ups and downs of budget fluctuations. He elevated the musical level of the chapel and ascended steadily in the ecclesiastical hierarchy (like most chapelmasters, he was also a priest). López Capillas died in Mexico in 1673, and his extant music survives in archives in Mexico and Spain.
Read more in the printed program (PDF).
---
U.S. premiere chamber opera: Pablo Ortiz's Gallos y huesos
In collaboration with Centro de Experimentación del Teatro Colón
June 2, 2014, at HERE Arts Center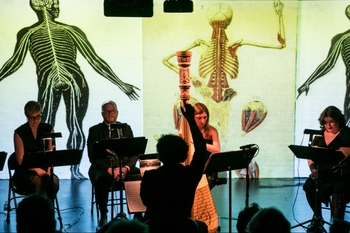 In Americas Society's first US premiere production in collaboration with the Teatro Colón's experimental theater, Meridionalis joined Argentine harpist Lucrecia Jancsa performed Pablo Ortiz's Gallos y huesos (Roosters and Bones). The hypnotic, repetitive libretto of New York-based writer Sergio Chejfec and the mesmerizing video art by renowned Argentine visual artist Eduardo Stupía set the stage for Ortiz's luminous musical tonalities.
Read more in the printed program (PDF) and in a blog post.
---
Bolivian Baroque: Music in the Missions of Chiquitos and Moxos
Collaborating musicologist: Piotr Nawrot
April 30, 2013, at St Paul's Chapel at Columbia University, in collaboration with Clarion Society

This concert presents music copied and performed during the eighteenth century in the Jesuit Missions of eastern Bolivia, now preserved in the archives of Concepción de Chiquitos and San Ignacio de Moxos. These are among the largest extant collections of music from the colonial period in America and include locally composed anonymous pieces as well as works by Domenico Zipoli, whose music is abundantly represented, and by other contemporary Italian composers. The archives contain hundreds of liturgical pieces in Latin including masses, settings of psalms, magnificats, litanies, and hymns in Spanish and Chiquitano. In addition, there are instrumental compositions: trio sonatas, pieces for keyboard, violins, etc. Musicological work on the repertoire has been especially fruitful over the past 30 years following the virtually fortuitous discovery of the manuscripts.
Read more in the printed program (PDF), in a blog post written by Sebastián Zubieta, and in a New York Times review.
---
Classics in the Tropics: Nineteenth-Century Music from Brazil
Collaborating musicologists: Luciane Beduschi, Pablo Sotuyo Blanco
May 12, 2012, at Raritan River Music and May 14, 2012, at Americas Society

Napoleon's invasion of Portugal had unintended musical consequences thousands of miles away, when King John VI decided to move his court to his Brazilian colony escaping the invasion. After a stop in Salvador, he arrived in Rio de Janeiro in 1808 followed by an entourage that amounted to almost a third of the city's population. The musical development of the new capital was astounding and swift. It is there that, around 1816, the three composers on this concert ¬(José Maurício Nunes Garcia, Sigismund Neukomm, Damião Barbosa de Araújo) met and shared musical experiences at churches and aristocratic salons.
Read more in the printed program (PDF).
---
Early Music from Cusco
Collaborating musicologist: Bernardo Illari
May 10, 2010, at Americas Society

Spain-born, Cusco-based chapel master Gutierre Férnandez Hidalgo (d. 1623) is universally recognized as the most accomplished Renaissance polyphonist of the Americas. He settled in the ancient capital of the Inca Empire, which became a cultural and intellectual center post conquest, in the late 1500s after resigning from several well-paid positions in Bogotá, Quito, and Lima. This program celebrates Cusco through Fernández Hidalgo, specifically the feast of the Assumption of Mary, to which the cathedral there was dedicated. Every major Spanish cathedral included a paid wind band that often performed in alternation with the singers, or doubling them.
Meridionalis and Bishop's Band at Trinity Wall Street's Twelfth Night Festival (2015).
"In horrore" by Francisco López Capillas at Hispanic Society of America (2015).
"Miserere" by José Maurício Nunes Garcia from Classics in the Tropics (2012).
.