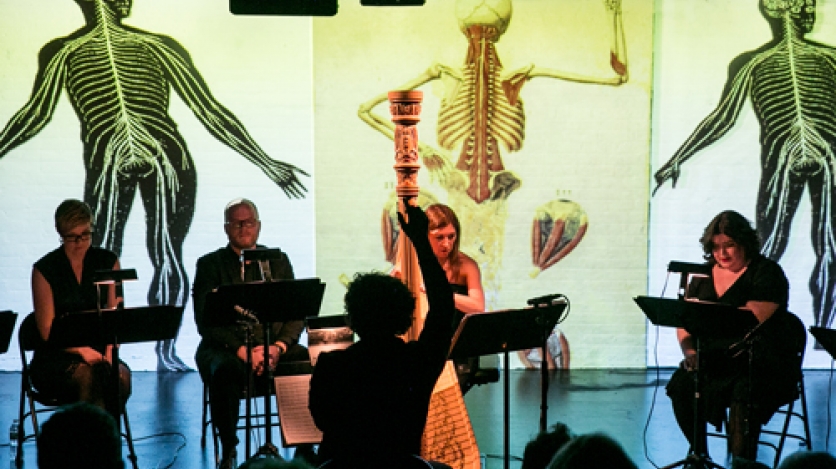 Meridionalis (Image by Roey Yohai for Americas Society).
Pablo Ortiz: Vocal Portrait
Sebastián Zubieta leads Meridionalis in a performance of several of Pablo Ortiz's recent choral works, including Maizal del Gregoriano (Arnaldo Calveyra) and Leaving Limerick (Richard Blanco).
Overview
Pre-registration for this event is now closed; box office will open at 6:15 PM.
Admission: FREE and open to the public.
Not yet a member? Learn how to become a Cultural Circle member to access this event.
Argentine composer Pablo Ortiz last collaborated with Music of the Americas on the U.S. premiere of his chamber opera Gallos y huesos in 2014. Sebastián Zubieta leads ensemble Meridionalis in a performance of several of Ortiz's recent choral works, including Maizal del Gregoriano, set to text of Arnaldo Calveyra, and Leaving Limerick, on text by Richard Blanco.
Meridionalis and the U.S. premiere of Ortiz's Gallos y huesos (2014).
Performers
| | |
| --- | --- |
| Sarah Brailey, Jolle Greenleaf, Amy Goldin | sopranos |
| Luthien Brackett, Clare McNamara, Kirsten Sollek | altos |
| Andrew Fuchs, Timothy Hodges, Clifton Massey | tenors |
| Steven Hrycelak, Thomas McCargar | baritones |
| Taka Kigawa | celesta |
About Pablo Ortiz
Argentinean composer Pablo Ortiz teaches composition at the University of California, Davis. He belongs to the generation of composers who were trained in 1970s and early 1980s, a time when the tenets of serialism were sacrosanct in American conservatories and music schools. Ortiz, who received his doctorate at Columbia under Mario Davidovsky, would have been inculcated with the doctrine of serialism as the pinnacle (and, in fact, the only respectable expression) of "serious" music. Like the most successful composers of that generation, Ortiz abandoned serialism, but has taken from his training a rigorous attention to compositional detail, which, in the service of an original and fertile musical imagination, produces works that are both intellectually stimulating and aurally attractive. Ortiz's grounding in the popular music of Argentina, particularly its rhythmic energy, is always apparent, sometimes with subtlety and sometimes with great flair. Major commissioners include the Koussevitzky Foundation to write Raya en el mar for the San Francisco Contemporary Music Players; El Fideicomiso para la Cultura México-Estados Unidos to write a set of bilingual children's songs; the Gerbode Foundation to compose Oscuro for Chanticleer and the San Francisco Contemporary Music Players; and the Terezín Foundation. In 1993 he was a fellow at the John Simon Guggenheim Memorial Foundation. In 2008, he received an Academy Award from the American Academy of Arts and Letters. Recent premieres include Suomalainen tango, for orchestra, by the Orquestra Nacional de Catalunya; Tango Futurista, for intonarumori, conducted by Luciano Chessa; Trois tangos en marge by the Kovacik, Dann, Karttunen trio at the Museo Nacional Reina Sofia in Madrid; Gallos y Huesos, an hour-long secular oratorio for five female voices, baritone, and harp; Martin Fierro, for four guitars and three sopranos; and Maizal del gregoriano, for SATB choir and celesta, commissioned by the Centro de Experimentación del Teatro Colón in Buenos Aires, Argentina; and Concerto for Bandoneón, commissioned by the Santa Rosa Symphony.
About Meridionalis
Founded in 2010 by Sebastian Zubieta, Americas Society's critically acclaimed vocal ensemble Meridionalis includes leading choral soloists in New York City. The ensemble performed the U.S. premiere of Ortiz's Gallos y huesos in 2014, as well as programs featuring music from Bolivia, Brazil, Guatemala, Mexico, and Peru in the United States, Colombia, and Cuba. They have performed at a diverse range of venues and festivals, including Symphony Space's Wall to Wall festival, Trinity Wall Street, St. Paul's Chapel at Columbia University, The Hispanic Society of America, and Americas Society in New York City, at the Raritan River Music Festival in New Jersey, as well as at the Sala Juan Ángel Arango in Bogotá and the Havana Cathedral with Ars Longa de La Habana. Upcoming engagements include tours of Cuba and Ecuador in April 2017.