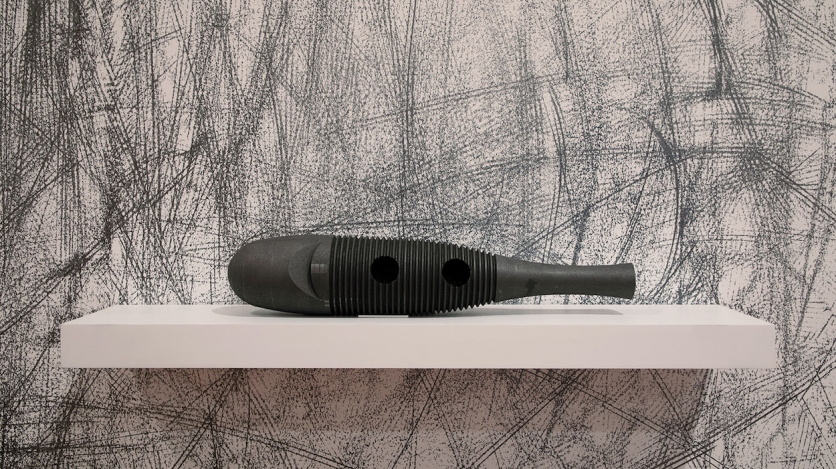 A work by Carlos Amorales at Joaquín Orellana: The Spine of Music, Americas Society. (Image: Alexander Perrelli)
In the Studio: The Spine of Music Series
Watch the videos: Listen to conversations with artists whose works are on view at Americas Society's Joaquín Orellana exhibition.
Overview
Every Thursday this February, contemporary artists speak with our Visual Arts department about their work and practice to bring Americas Society's Visual Arts public programs to your home. This series includes interviews with artists whose works are on view in our current exhibition, Joaquín Orellana: The Spine of Music. Join us live on Instagram or watch on demand on YouTube after.
Check the schedule below for the month's artist conversations for our series In the Studio: The Spine of Music edition.
Past Events
Carlos Amorales
Thursday, February 4, 5 pm ET
In conversation with Aimé Iglesias Lukin, director and chief curator of Visual Arts. Watch the video.
About the artist
Amorales is a multidisciplinary artist who explores the limits of language and translation systems to venture into the field of cultural experimentation. He uses graphic production as a tool to develop linguistic structures and alternative working models that allow new forms of interpretation and foster collectivity. In his projects, Amorales examines identity construction processes, proposes a constant re signification of forms present in his work, and provokes a clash between art and pop culture. His research processes are complex; they are based in an ample repertoire of empirical methodologies to develop extensive projects that conjugate historical, cultural, and personal references. His practice expands to diverse media such as drawing, painting, sculpture, or collage; as well as performance, installation, animation, sound art, film, writing, among other non-traditional formats. He studied visual arts in the Gerrit Rietveld Academie and the Rijksakademie van Beeldende Kunsten, both in the city of Amsterdam, Netherlands. His works are available in international collections such as Museo Tamayo and the Museo Universitario de Arte Contemporáneo, Mexico City: Tate Modern, London; The Museum of Modern Art and the Guggenheim Museum, New York; Walker Art Center, Minneapolis; Museum Boijmans van Beuningen, Rotterdam; among others.
María Adela Díaz
Thursday, February 11, 5 pm ET
In conversation with Natalia Viera Salgado, assistant curator of Visual Arts. Watch the video.
About the artist
For nearly two decades, Guatemalan native and international performance artist Maria Adela Díaz has used her body and various media to explore the complex essence and sublimity of a woman's nature. Díaz's work raises objections to patriarchal values, political deception and discriminatory ideologies, employing video performance and installation Díaz's seduces and provokes the observer within unexpected, everyday contexts. The artist has been featured in numerous solo and group exhibitions in venues around the world, including the Centre Pompidou in Paris, Ex Teresa Arte Actual in Mexico City, and Museo de Arte Contemporáneo in San Jose, Costa Rica, Italy, Croatia among others. Díaz currently resides in Los Angeles, where she works as an art director.
Alberto Rodriguez Collía
Thursday, February 18, 5 pm ET
In conversation with Natalia Viera Salgado, assistant curator of Visual Arts. Watch the video.
About the artist
Alberto Rodríguez Collía lives and works in Guatemala. With his work, he tries to explore the historical memory, sordid aspects of the human being, and the ridicule of the societies that are imposed over others. He graduated as Engraver from Art School no. 10 of Madrid, and for his final project received the honorable mention at Aurelio Blanco awards. In 2007 he co-founded the TEGG, the only engraving workshop in Guatemala, where he taught and organized exhibitions related to graphic arts. He was awarded with the residencies of FONCA / CASA of Oaxaca, Mexico; Des.Pacio of San José, Costa Rica; Fundaçao Armando Alvarez Penteado in São Paulo, Brazil; and AIT in Tokyo, Japan. He also participated in thirty-second Biennial of Ljubljana, in the XVI and XVII Biennial of Guatemala, the VII Central American Biennial, and in exhibitions on Palais de Tokyo, Rencontres Internationales Paris-Berlin, and the Roppongi Art Complex of Tokyo. From 2010 to 2014 he was in charge of the Cinematographic Art Center of the CCEG, coordinating films screenings and workshops of cinema. Also coordinated the Contemporary Film Festival (MUCA) and has worked for the human rights oriented film festival "Memoria, Verdad, Justicia" since 2013. He participated in the films Even the Sun Has Spots (artistic co-director with Julio Hernández) that won the Prix Espérance and honorable mention in the FID of Marseille, and also was screened at the Museum of the Moving Image in New York, and Hopefully the Sun Will Hide Me (artistic co-director with Andrea Mármol) both films from Julio Hernández Cordón. At the beginning of 2020 he worked in the theater play of Marco Canale La velocidad de la luz, on its Tokyo version.
Akira Ikezoe
Thursday, February 25, 5 pm ET
In conversation with Diana Flatto, co-curator of Joaquín Orellana: The Spine of Music. Watch the video.
About the artist
Ikezoe (b. 1979, Kochi, Japan) is a New York-based artist. He creates works in diverse disciplines, including drawing, painting, sculpture, and video, in relation to the balance between the forces we consider as external, and the "civilizing" of ourselves. In Ikezoe's works, various objects from his surroundings are woven into a metaphysical and mythological context and often result in schematic compositions with flat backgrounds.
---
Visit the Americas Society Visual Arts YouTube Channel for recordings of In the Studio Series and other previous events.
Follow the conversation on Instagram: #IntheStudioAS | @americassociety.visualarts
---
More digital content from Visual Arts at Americas Society:
Funders
The presentation of Joaquín Orellana: The Spine of Music is supported in part by the National Endowment for the Arts and by public funds from the New York City Department of Cultural Affairs, in partnership with the City Council. It is also made possible, in part, by the New York State Council on the Arts with the support of Governor Andrew M. Cuomo and the New York State Legislature. 
Americas Society thanks the Ministry of Culture and Sports of Guatemala for its support on this project.
Additional support is provided by MetLife Foundation, Presenting Sponsor of the MetLife Foundation Music of the Americas Concert Series; the Smart Family Foundation of New York; Mex-Am Cultural Foundation; and the Japan Foundation, New York. In-kind support is provided by Kurimanzutto Gallery Mexico City and New York. The accompanying publication is made possible, in part, by a grant from Furthermore: a program of the J.M. Kaplan Fund.
Americas Society acknowledges the generous support from the Arts of the Americas Circle members: Estrellita B. Brodsky; Virginia Cowles Schroth; Diana Fane; Galería Almeida e Dale; Isabella Hutchinson; Carolina Jannicelli; Vivian Pfeiffer and Jeanette van Campenhout, Phillips; Gabriela Pérez Rocchietti; Erica Roberts; Sharon Schultz; Diana López and Herman Sifontes; and Edward J. Sullivan.