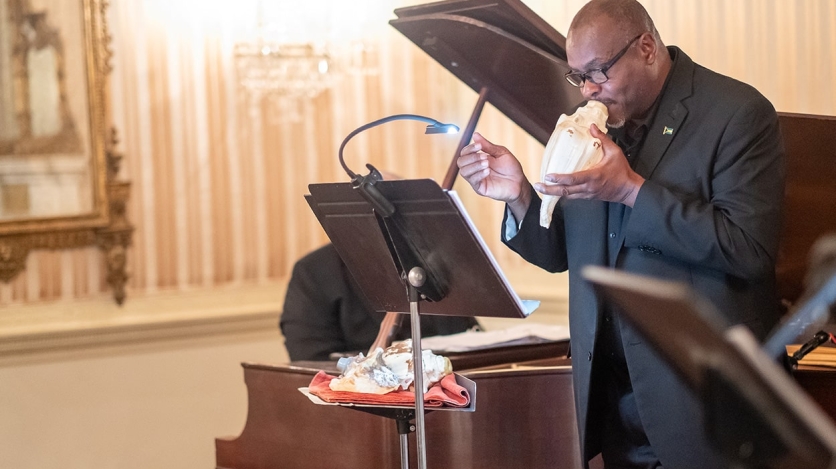 Christian Justilien of C Force at Americas Society. (Image: Roey Yohai Studios)
SONiC: Puentes caribeños
Music by Caribbean composers performed by Bahamian new music ensemble C Force and Jamaican pianist Paul Shaw. 
Overview
On June 9, we will host this event in person, and tickets are free. 
Registration is CLOSED for this event, but walk-ins are welcome as seats may still be available.
A video of the concert will be released at a later date. Remember to follow us to watch this and other exciting performances.
Music of the Americas collaborates again with the American Composers Orchestra on the SONiC Festival, a 12-day event across New York City in partnership with multiple venues, composer curators, and 100+ performers. SONiC Festival explores the role of the composer as a catalyst for collective acts of creativity. Each in their way, and using music-making techniques and languages from ancient to modern, our artists invite public participation – to listen, interact, observe, make music, move, and dream.
For the 2023 Festival, we welcome a program of Caribbean music entitled Nexus, produced by Puentes Caribeños, an organization dedicated to promoting Caribbean art music since 2013. Featuring Jamaican pianist Paul Shaw, Puerto Rican flutist Nora Lee Garcia, and Bahamian ensemble C Force – with Christine Gangelhoff, flute; Christian Justilien, euphonium; and Paul Jones, piano – this performance presents works connected to the Caribbean, including four world premieres. Curated by Puentes Caribeños, coordinated by Christine Gangelhoff. 
In collaboration with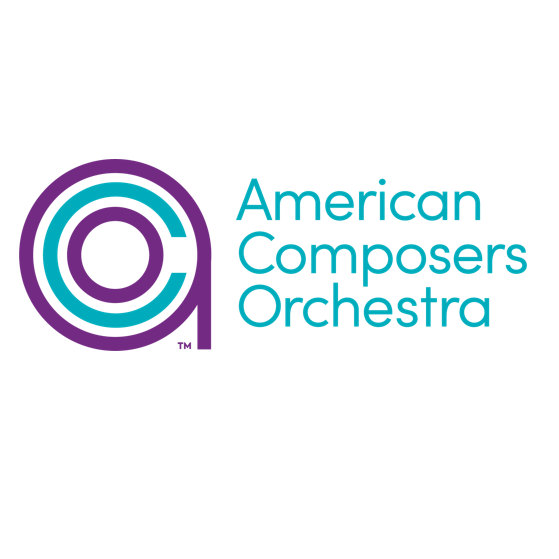 Program Notes
Program
Curated by Puentes Caribeños
Introduction by Garrett McQueen, ACO Director of Artist Equity
Paul Shaw, piano
Piano Variations: Aaron Copland
Limba for George: Paul Shaw
Variations on a Theme by E. Clement Bethel: Cleaophas Adderley
Bridge 1
Pequeños puentes 1*: Carlos Carrillo
Christine Gangelhoff and Nora Lee Garcia, flutes
Fluterican
Nora Lee Garcia, flute
Estampas del Caribe*: Mariano Morales
with Mariano Morales, piano
Sonatina for Flute and Piano: Raymond Torres Santos
Movement IV: Raymond Torres Santos
with Raymond Torres Santos, piano
Bridge 2
Pequeños puentes*: Carlos Carrillo
Christine Gangelhoff and Nora Lee Garcia, flutes
C Force
Christine Gangelhoff, flute Christian Justilien, euphonium, Paul Jones, piano, with Gillard Louis, percussion
Erosions*: Adam Walters
Conch 'n Cays*: Christian Justilien/Paul Jones
Bahama Islands Suite: Christian Justilien, text by Marion Bethel
San Salvador (The New World)
Grand Bahama (Pinder's Point)
Eleuthera (Da Bight)
Ragged Island (Deep South)
Bimini (Blue Marlin)
with Garrett McQueen, spoken word
*World premiere
About Puentes Caribeños 
Puentes Caribeños is the organization behind the Caribbean art music symposia that have taken place across the Caribbean since 2013. Passionate about the extensive but little-known repertoire of music from the region, Puentes Caribeños is committed to promoting composers linked to the Caribbean in order that their voices may be heard more widely. As the classical music world finally begins to embrace more diversity and inclusion, the work of Puentes Caribeños is timelier than ever. The Puentes Caribeños committee consists of its co-founders Dr Carlos Carrillo (University of Illinois), Dr Christine Gangelhoff (University of The Bahamas) and Dr Adam Walters (University of Trinidad and Tobago).
Paul Shaw - piano, a top prize-winner in the William Kapell International Piano Competition and the Young Concert Artists International Auditions, has performed at prestigious venues across the globe including Carnegie Hall and Lincoln Center in New York, the Kennedy Center and the Hall of the Americas in Washington, Beethovenhalle in Bonn, and the National Centre for the Performing Arts in Beijing. He was educated at the Jamaica School of Music and at The Juilliard School where he earned the Bachelor's, Master's, and Doctor of Musical Arts degrees in Piano Performance. He is a Steinway Artist.
Fluterican Nora Lee Garcia is one of the most highly regarded flutists in the concert world today. A Powell Flutes Artist and Professor of Flute at the University of Central Florida, she is in demand as an international soloist, chamber artist, and teacher. Nora Lee has performed in Carnegie Hall and she played with the Chautauqua Symphony in New York and holds the position of principal flute with the Bach Festival Orchestra of Winter Park and the Florida Chamber Orchestra, of which she is a founding member. She has collaborated with some of the world's finest performers, composers, and conductors, such as Krzysztof Penderecki, Michael Tilson Thomas, George Crumb, Michel Debost, Philip Moll, and Gary Schocker. Most notably, Nora Lee can be heard on the soundtrack for the Sony Pictures film, The End of the Spear and her CD for flute and guitar 2022 Global Award winner Cubatina (Centaur 3937).
Mariano Morales works in a wide spectrum of genres and styles. As a composer, Morales has received numerous commissions and his works have been performed by distinguished ensemblesincluding the Royal Symphony Orchestra of Seville, the Netherlands Wind Ensemble, the Houston Symphony, the New York Philharmonic Brass Ensemble, the Santa Fe Symphony, and the Puerto Rico Symphony Orchestra. Performances of his compositions have also been presented at Music in the Mountains Festival in Durango, the Grant Park Music Festival in Chicago, the Orlando Philharmonic, the Casals Festival in Puerto Rico, and the Houston Symphony Orchestra's Chevron Fiesta Sinfónica Series. Morales holds a bachelor's degree in music in Jazz Composition and Arranging from Berklee College of Music and a master's and a Doctoral Degree in Music Composition from Indiana University.
Born in Puerto Rico, Raymond Torres-Santos studied at the Puerto Rico Conservatory of Music and the University of Puerto Rico. He holds a Ph.D. and M.A. in composition from UCLA and completed advanced studies at Stanford and Harvard University. He furthered studies in Europe, at the Ferienkurse für Neue Musik in Germany, and at the University of Padua in Italy. His major professors were Henri Lazarof and David Raksin. He is the recipient of awards given by ASCAP, BMI, Meet the Composer, American Composers Forum, American Music Center, California State University and City University of New York as well as the Henry Mancini and Frank Sinatra Awards in Los Angeles. 
C Force Trio features a unique instrumentation with Christine Gangelhoff, flute; Christian Justilien, euphonium; and Paul Jones, piano. The members of C Force, who hold degrees from Berklee, Indiana, Minnesota, North Texas, Vandercook, Western Ontario and Yale, are unified in their desire to elevate music education in The Bahamas and throughout the Caribbean via their inclusive repertoire, compositional work and performance practice. Since its formation in 2008, the group has been featured in concerts throughout the islands of The Bahamas and the wider Caribbean, with performances in Trinidad and Tobago, the Dominican Republic, Jamaica, Puerto Rico, the US Virgin Islands, Canada, and the United States. Their aim is to showcase little-known classical composers of the Caribbean in original works, transcriptions and arrangements. C Force has recorded several CDs, one of which was described by the late musicologist Dominique-René de Lerma as "destined to become a document in the evolutionary history of music in The Bahamas."
Funders
The MetLife Foundation Music of the Americas concert series is made possible by the generous support of Presenting Sponsor MetLife Foundation.
The Spring 2023 Music program is also supported, in part, by the Howard Gilman Foundation, and by public funds from the New York City Department of Cultural Affairs in partnership with the City Council and from the New York State Council on the Arts with the support of the Office of the Governor and the New York State Legislature, and The Fan Fox and Leslie R. Samuels Foundation.
Additional support comes from New Music USA's Organizational Development Fund in 2022-23, the Alice M. Ditson Fund of Columbia University, The Aaron Copland Fund for Music, The Amphion Foundation, Inc., and the Augustine Foundation.