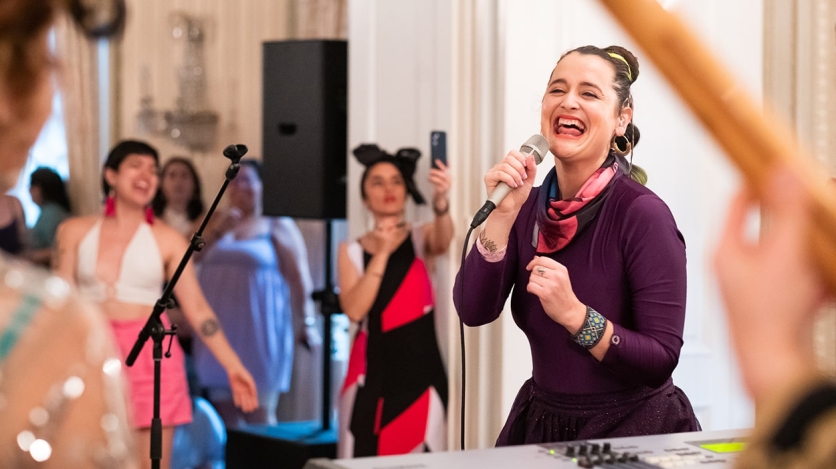 Pascuala Ilabaca at Americas Society. (Image: Roey Yohai Studios)
Pascuala Ilabaca & Fauna: La Curiosidad
The Chilean songstress performs on our New York stage as part of her U.S. tour.
Overview
On June 2, we will host this event in person, and tickets are free. 
Registration is CLOSED for this event as tickets are SOLD OUT.
A video of the concert will be released at a later date. Remember to follow us to watch this and other exciting performances. 
Pascuala Ilabaca & Fauna - La Curiosidad Tour 2022 
Pascuala Ilabaca & Fauna is one of the most important artists in Chile and Latin America. With seven studio albums published and over 15 international tours, she present her most recent work, "La Curiosidad." A simple cumbia/salsa style invites us to free ourselves from what oppresses us through the exercise of curiosity as the key to self-determination. Following this inspiration, the artist prepared for international circulation in 2022 with tours of the USA, Canada, and Europe under the name "La Curiosidad Tour 2022", which celebrated 10 years of her first international tour. The Chilean artist invites us to meet again and discover her new music, which for the first half of 2022 also includes the release of a new album with songs that mix rhythms of popular festivals from Latin America with her characteristic accordion and brass sounds and a lyrical socially committed around feminism and social movements.
Program Notes
Born in Valparaiso, Chilean singer-songwriter Pascuala Ilabaca is a unique and treasured voice in both the Latin American and World Music scenes. 
In little over a decade, she has released six albums and performed on multiple world tours. She is known for her flamboyant and refreshing performances. ​Ilabaca's debut album, Pascuala Canta a Violeta, was released in 2008 featuring her arrangements of legendary singer-songwriter Violeta Parra's songs. In 2010, Ilabaca received the Guitarpin de oro prize at the Festival del Huaso de Olmué, and by 2012, she had completed her first two European tours, which included two nights of performance at the German TFF Rudolstadt Festival. She also released her second album, Busco Paraiso, that same year. In 2013, Ilabaca and her band Fauna were the Audience Award winners for Best World Beat Album at the Independent Music Awards. They also performed at the Music and Politics Festival in Berlin and at the Barnasants Festival in Barcelona.​ In 2014, Ilabaca released her third and fourth albums: the solo project Me saco el sombrero and her second album with Fauna Diablo rojo, Diablo verde. That same year she returned to the Barnasants Festival and also performed at the Pirineos Sur Festival in Spain and at Fusion Festival and the Berlin Philharmonic in Germany. In addition, she completed an 11-concert tour in England that includes a performance at the London Jazz Festival. Exciting 2015 brought the release of Ilabaca's fifth album Rey Loj and performances at Shambala and WOMAD in the UK, Circulart in Colombia and La Mar de Musicas and the Bidasoa Folk Festival in Spain. Then 2016 brought an official showcase at WOMEX and a tour of Brazil, Peru, Argentina, and Mexico. She also received the Pulsar Prize, the most important Chilean music industry award. In 2017, Ilabaca performed 22 concerts in Europe that included stops in Belgium, Holland, Germany, and Spain. This European tour was followed by her first U.S. tour with concerts in 12 cities across nine states and performances at such festivals as ¡Globalquerque! and the Chico World Music Festival. In 2018, Ilabaca released her sixth and most recent album El mito de la pergola. She spent the next two years touring Chile, Europe, Colombia, and the United States.
Funders
The MetLife Foundation Music of the Americas concert series is made possible by the generous support of Presenting Sponsor MetLife Foundation.
The Spring 2023 Music program is also supported, in part, by by the Howard Gilman Foundation, and by public funds from the New York City Department of Cultural Affairs in partnership with the City Council and from the New York State Council on the Arts with the support of the Office of the Governor and the New York State Legislature.
Additional support comes from New Music USA's Organizational Development Fund in 2022-23, the Alice M. Ditson Fund of Columbia University, The Aaron Copland Fund for Music, and The Amphion Foundation, Inc.