Pascuala Ilabaca: "I Like Breaking Stereotypes…around [Being] a Latin American Woman"
"I enjoy making traditional music conceivable with themes that matter to us women," said the Chilean musician and frontwoman of Pascuala Ilabaca y Fauna.
AS/COA interviewed the artist. Read:
Pascuala Ilabaca began singing and playing the piano when she was six years old. After studying music in college, she formed Pascuala Ilabaca y Fauna, a band now known for its fusion of genres like cumbia and salsa, along with jazz, pop, and rock. With her characteristic accordion, brass sounds, and messages around feminism and social movements, Ilabaca became a unique voice in Latin American scenes. 
On June 2, the Chilean songstress will present "La Curiosidad," her most recent work, at Americas Society. 
"I am from Valparaíso, which is a World Heritage Site, and one of its qualities is great music," said Ilabaca. "There is a strong culture of music, which has to do with traditional music and progressive rock…Valparaíso has always been an innovative city. That shows in our music; there is something bohemian, of travelers, that was integrated from coming from here." 
With her husband Jaime Frez as the drummer, the band has published seven studio albums and gone on over 25 international tours. Ilabaca has also won a Pulsar prize, the most important Chilean music industry award. 
With time, the message of her music has varied. 
"I like breaking stereotypes—for example, the stereotypes created around what it is like to be a Latin American woman," she said. "Also stereotypes around folklore, which is sometimes defined within nationalistic ideas. I like gathering traditional music but making it conceivable with themes that matter to us women. For example, in these last years, it has mattered to me very much to connect feminism with folklore." 
During the pandemic, Pascuala Ilabaca y Fauna were part of Music of the Americas' "En Casa," a series of home-recorded videos from artists of the Americas. The collaboration with Americas Society offered "strong support during the pandemic," said Ilabaca. 
"It was an opportunity to keep going out into the world and communicating our message. It was like a ray of sunshine during the pandemic." 
The songwriter mentioned Chilean composer Violeta Parra, Colombian singer Totó la Momposina, and Janis Joplin as some of her inspirations. 
"From Chile, Violeta Parra is a bridge for the new generations to understand Chilean identity. I also think it is necessary to see elderly women get older in happiness, and Totó la Momposina is an example of that for us all," said Ilabaca. 
Her June 2 concert at Americas Society will be a mix of traditional and "rock-style" music, she said. 
"People need to come with the willingness to be excited, to listen, to celebrate, and to dance at times," said Ilabaca. "It is a very happy and family-oriented concert."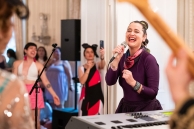 Pascuala Ilabaca & Fauna: La Curiosidad
The Chilean songstress performs on our New York stage as part of her U.S. tour.