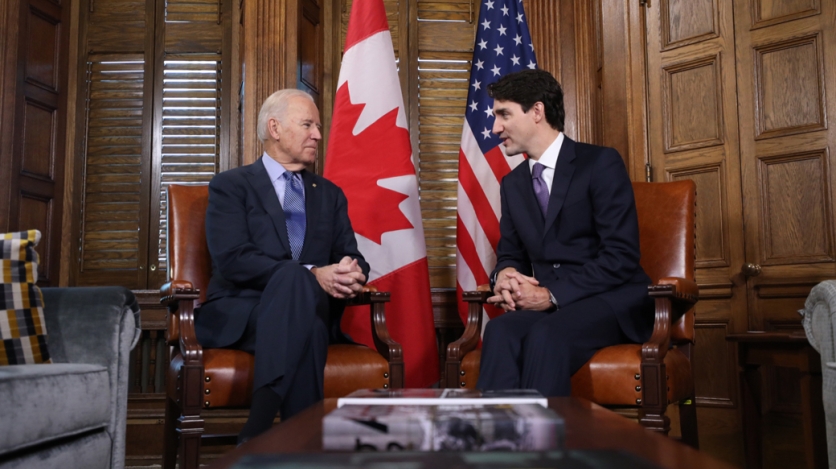 President Biden and Prime Minister Trudeau. (Image: Office of the Prime Minister of Canada)
Biden in Canada: What to Expect
AS/COA and the Woodrow Wilson Center Canada Institute will hold a virtual panel discussion on the visit by the U.S. president to Ottawa.
Overview
Joe Biden will travel to Canada for the first time as the U.S. president March 23 and 24 for meetings with Canadian Prime Minister Justin Trudeau. This trip follows the president's recent travel to Mexico for the trilateral "Three Amigos Summit" and offers a timely opportunity to address pending bilateral issues with Canada. The two leaders will discuss competitiveness and economic matters, climate and environmental issues, energy, and security cooperation, among others. 
In anticipation of the visit, please join Americas Society/Council of the Americas and the Woodrow Wilson Center for a discussion on what to anticipate, what to look for, and what it all means.
Speakers:
Louise Blais, former United Nations Deputy Permanent Representative, Canada; Senior Advisor, Business Council of Canada
Gordon Giffin, Partner, Dentons, former U.S. Ambassador to Canada
Colin Robertson, former Canadian diplomat, and Fellow, Canadian Global Affairs Institute
Eric Farnsworth, Vice President, Americas Society/Council of the Americas

Earl Anthony (Tony) Wayne, former U.S. Assistant Secretary of State for Economic and business affairs, former Ambassador to Mexico (moderator)

Read an article on why Canada Shouldn't Be an Afterthought by Eric Farnsworth.
Watch & Listen
In Partnership with