Registration: 8:30 a.m. to 9:00 a.m. ET
Conference: 9:00 a.m. to 12:00 p.m...

Live broadcast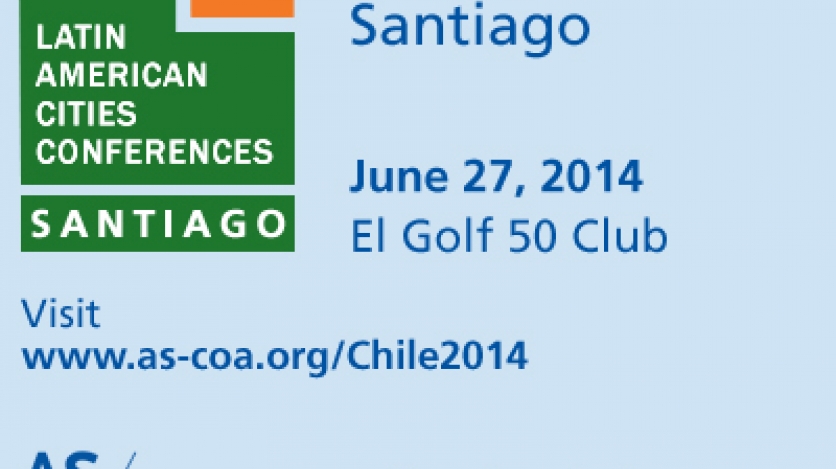 2014 Latin American Cities Conferences: Santiago
Top public- and private-sector leaders shared their views on what's ahead for Chile's new administration.
Overview

CHILE: OPPORTUNITY AND GROWTH
In collaboration with Adolfo Ibañez School of Management, AmCham Chile, Bolsa de Comercio de Santiago, Cámara de Comercio de Santiago, Columbia Global Centers - Latin America (Santiago), ComunidadMujer, David Rockefeller Center for Latin American Studies - Harvard University, Endeavor Chile, Fundación Chile, and Grupo Liderazgo
AS/COA and Chile's Ministry of Foreign Affairs will host the ninth annual Latin American Cities Conference in Santiago. Speakers will address Chile's economic forecast, growth prospects, and the country's increasingly important role in regional trade networks. As President Michelle Bachelet finishes the first 100 days of her second term, panelists will consider the challenges and opportunities that face the new administration in regards to fiscal and economic policies, education, and the energy sector.
Speakers:
Heraldo Muñoz, Minister of Foreign Affairs of Chile
Alberto Arenas de Mesa, Minister of Finance of Chile (Download his presentation)
Luis Felipe Céspedes, Minister of Economy, Development and Tourism of Chile (Download his presentation)
Máximo Pacheco, Minister of Energy of Chile
Carlos Barrera, Vice President and Managing Director, SunEdison Latin America
Víctor Hassi Sabal, Country Head, MetLife Chile Holding and Chairman, ProVida AFP
Cristián Maturana, General Director and Founder, Portalinmobiliario.com
Nicolás Paut Vicuña, Economy Editor and Presenter of Agenda Económica, CNN Chile
Susan Segal, President & CEO of Americas Society Council of the Americas
Note: This event is free of charge. Prior registration is required.
Registration is NOT required to view the webcast.
Event Information: Mercedes Laxague | mlaxague@as-coa.org | 1-212-277-8382
COA Corporate Membership: Monica Vieira | mvieira@as-coa.org | 1-212-277-8344
Sponsorship Opportunities: Ana Gilligan | agilligan@as-coa.org | 1-212-277-8364
Press Inquiries: Adriana La Rotta | alarotta@as-coa.org | 1-212-277-8384
Agenda
Agenda
8:30 – 9:00 a.m.       Coffee and Registration
9:00 – 9:05 a.m.       Opening Remarks
Susan Segal, President and CEO, Americas Society/ Council of the Americas
9:05 – 9:25 a.m.       Heraldo Muñoz, Minister of Foreign Affairs of Chile
9:25 – 9:45 a.m.       Luis Felipe Céspedes, Minister of Economy of Chile (Download his presentation)
9:45 – 10:50 a.m.      Panel - The New Agenda for Growth and Social Change in Chile: The Private Sector's Vision
Carlos Barrera, Vice President and Managing Director, SunEdison Latin America
Víctor Hassi Sabal, Country Head, MetLife Chile Holding and Chairman, ProVida AFP
Cristián Maturana, Managing Director and Founder, Portalinmobiliario.com
Jorge Rodríguez-Grossi, Executive President, Alto Maipo, AES Gener
Nicolás Paut Vicuña, Economy Editor and Presenter of Agenda Económica, CNN Chile
10:50 – 11:10 a.m.     Máximo Pacheco, Minister of Energy of Chile
11:10 – 11:30 a.m.     Alberto Arenas de Mesa, Minister of Finance of Chile (Download his presentation)                              
11:30 – 11:35 a.m.     Closing Remarks
Susan Segal, President and CEO, Americas Society/Council of the Americas
11:35 – 12:00 p.m.     Coffee and Networking Session