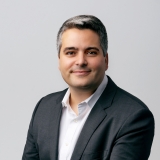 Carlos Barrera
Chief Executive Officer, Atlas Renewable Energy
Carlos ('Ucho') Barrera is currently the CEO of Atlas Renewable Energy, a leading regional Latin American renewable energy company that is currently one of the largest solar IPPs in the region. Atlas started operations in early 2017 after a successful MBO backed by Actis, a prominent investor in the energy sector and emerging markets space. Since then, it has grown to nearly 3GW of contracted projects, and to an enterprise value exceeding $3 billion.
Before his current position, Carlos Barrera was the vice president & manager director of SunEdison for Latin America, responsible for the company's Latin America business unit and with overall accountability for the commercial strategy, operational execution, P&L, and regional corporate results. He oversaw the contracting, construction & execution of over 500MW and an overall investment sum of $1 billion structured with project finance. Previous to this role within SunEdison, Carlos undertook numerous executive positions such as general manager for South America in SunEdison where he grew the company's entry into Latin America from scratch; and development director for Europe, Latin America, North of Africa and Middle East where he was responsible for solar project development and M&A.
Before joining SunEdison, Carlos Barrera worked at BP starting his career in the challenger graduate program working in conventional oil & gas commercial, financial, and business development roles. He then moved to the Alternative Energy Division within BP, specifically to the Hydrogen Power & Carbon Capture and Storage (CCS) business, focused on Development and Strategy in Australia, USA and the EU. He then moved to the Venture Capital team, leading origination efforts in the carbon trading segment, mainly focused in China and India. He subsequently became responsible for the development of new markets for large-scale projects at BP Solar, where he led a number of successful large-scale solar project sales to institutional investors across Europe.
Carlos holds a bachelor of science degree in mechanical engineering and mechanics from Lehigh University in Pennsylvania (USA), and an executive MBA from Kellogg School of Management, Northwestern University. He has also attended several executive management and leadership courses in numerous institutions and holds a certificate of Program for Leadership Development (PLD) from Harvard University