Will Bolivia Board the Lithium Express?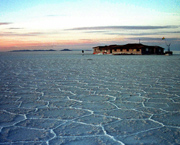 Bolivia finds itself in the middle of a struggle for controlling and exploiting a key natural resource for the future of the world's auto industry: lithium. Underneath the Salar de Uyuni, a salt desert in the southwest region of the Andean country, lie approximately 5.4 million metric tons of the resource. The deposits represent almost half of the world's lithium reserves. American, Chinese, French, South Korean, and Japanese companies have expressed interest in a slice of the pie. But Bolivian President Evo Morales has made clear that his government, while looking for foreign investment, does not plan to give away sole exploitation contracts to any foreign company. His plans involve a state-run initiative to harvest the mineral deposits and manufacture batteries for electronics and, eventually, the world's nascent electric vehicle market.
Unfortunately, Morales plans are easier said than done. The Salar de Uyuni in the department of Potosi has limited infrastructure to effectively mine the lithium deposits. As reported by newspaper La Razón, Bolivia's Director General of the Mining Ministry Freddy Beltrán acknowledged that the country hopes to move forward with the mining operation on its own but still needs a foreign partner to industrialize the battery production. "We need the technology to fabricate car batteries because we are still light-years away from it, that's why we need a partner," said Beltrán.
Bolivia's history of nationalizing foreign assets and breaking contracts with energy companies since Morales won the presidency in 2006 may seem like a deterrent for foreign investors. Yet companies like France's Bolloré, Japan's Sumitomo and Mitsubishi, South Korea's LG, and even General Motors (before it declared bankruptcy) wooed Morales' administration in search of agreements. The Times of London chronicles the competition between Chinese and Japanese delegations in Bolivia, which included donations to build a school in Morales' hometown and military equipment. Still some preoccupation looms in investor's minds, as demonstrated in dealings with the state-owned Yacimientos Petrolíferos Bolivianos (YPFB). After YPBF took over the natural gas and oil industries, production dropped and corruption scandals flourished.
But while debate persists in Bolivia, other countries have geared up to serve as suppliers in the upcoming lithium boom. Enter Chile, the leading lithium producer and holder of the world's largest reserves, estimated at 7.5 million metric tons. U.S. Geological Survey expert Brian Jaskula said that more recent studies have reaffirmed Chile as the world leader. He also noted that, given Bolivia's lack of infrastructure to commercially produce lithium, it may "end up missing the lithium express." Other considerable lithium reserves are located in Argentina, China, and the United States.
The international pressure to secure access to this new commodity will likely increase in the next decade thanks to Washington's push for lower emission electric vehicles powered by lithium polymer batteries. The U.S. Energy Department is offering up to $1.5 billion in federal grants for American companies to produce these new batteries and related components. Furthermore, the government is set to release on June 23 $25 billion to the car industry for the development of fuel-efficient cars.
Learn more: