Unity of Nature: Alexander von Humboldt and the Americas
Co-published by Americas Society, this catalogue includes maps and timelines of Humboldt's expeditions to the Americas.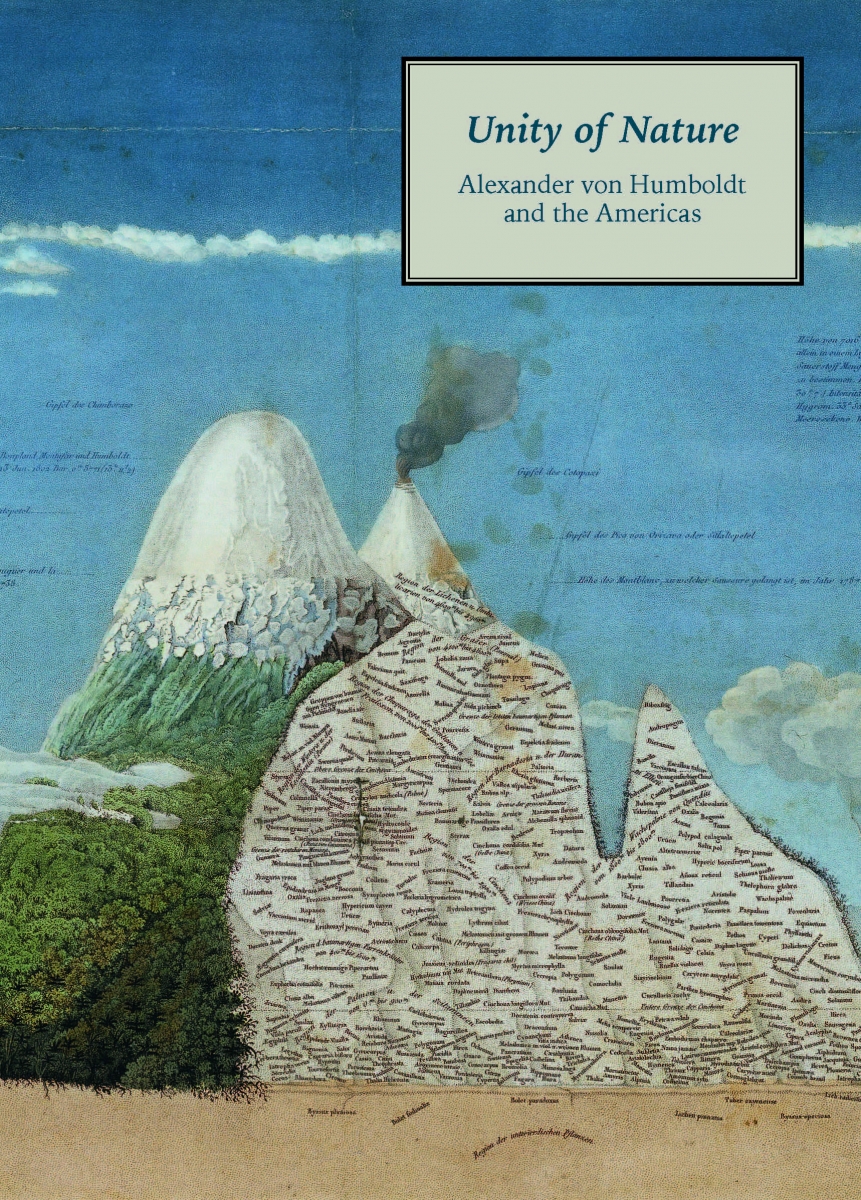 Contributors and essay topics include:
"Humboldt as the Second Columbus" by Dr. Jay Levenson (Director of the International Program, Museum of Modern Art, New York)
"Connectivity: Humboldt and the Torrid Zone" by Georgia de Havenon (Exhibition Co-Curator)
"Americans in Alexander von Humboldt's Personal Address Book" by Dr. Ingo Schwarz (Research Coordinator, Alexander von Humboldt Forschungsstelle, Berlin-Brandenburgische Akademie der Wissenschaften)
"Humboldt and the American Pictorial Imagination" by Dr. Katherine Manthorne (Professor of Art of the United States, Latin America, and Their Cross-Currents, 1750-1950, The Graduate Center, City University of New York)
"Artist-Travelers and the Sciences" by Dr. Pablo Diener (Professor, Department of History, Universidade Federal de Mato Grosso, Brazil)
"The Picturesque Atlas: The Landscape Illustrations in Alexander von Humboldt's Views of the Cordilleras and Monuments of the Indigenous Peoples of the Americas" by Dr. Alicia Lubowski-Jahn (Exhibition Co-Curator)
"Alexander von Humboldt and his Unity of Nature, an interview with Mark Dion" by Dr. Wenzel Bilger (Program Director, Goethe-Institute New York), Mark Dion (Artist and Co-Director of Mildred's Lane), and Gabriela Rangel (Director and Chief Curator of Visual Arts, Americas Society)
"Field Station Honda: Mark Dion in Colombia" by José Roca (Artistic Director, FLORA ars+natura, Bogotá)
Learn more about the exhibition.
Complete with plates section, exhibition checklist, map of Alexander von Humboldt's expeditions to the Americas, timeline of Alexander von Humboldt, and bibliography.
Hardcover: 160 pages
Publisher: Kerber Verlag/Americas Society
Price: $45. To purchase this catalogue, please contact: artgallery@as-coa.org