Timeline: Peru's 2022 Political Crisis
AS/COA Online covers major events since President Pedro Castillo's December 7 impeachment.
This timeline was initially published December 14, 2022 and has since been updated.
Between an impeachment, a new president, and a nationwide state of emergency, a lot has happened in Peru since former President Pedro Castillo tried to dissolve Congress on December 7. AS/COA Online covers the events marking the December 2022 political crisis.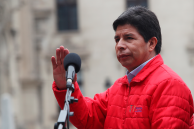 Primer: Peru's Pedro Castillo Impeached after Attempting to Dissolve Congress
After a few dramatic hours on December 7, Congress swore in VP Dina Boluarte as president. AS/COA Online rounds up international and domestic reactions.