Summary: Latin America's Tech Revolution
Keynote Speaker:
Mónica Aspe Bernal, Undersecretary of Communications, Secretariat of Communications and Transportation
Panelists:
James Bosworth, Partner and Director of Analysis, Southern Pulse
Patricia Florissi, Vice President and Global Chief Technology Officer for Sales, EMC Corporation
Sean Summers, Vice President of Marketplace, Mercado Libre
Roberto Wagmaister, CEO and President, Grupo Assa
Rossana Fuentes-Berain, Founder, Mexico Media Lab S21 (Moderator)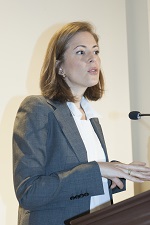 Mónica Aspe Bernal
Summary
On May 22, Americas Quarterly (AQ) held a panel discussion on Latin America's technology revolution in Mexico City to celebrate the launch of its Spring 2015 issue, "Technology in Latin America: Can You Hear Us Now? A Hemisphere Wired for Change." Keynote speaker Mónica Aspe Bernal, Mexico's undersecretary of Communications, opened the discussion by contextualizing how the region's tech revolution may be able to help reduce social inequalities in Latin America and how the country's initiatives have transformed its telecommunications sector. Rossana Fuentes-Berain, founder of Mexico Media Lab S21, began the panel discussion by reflecting on the importance of macroeconomics to paving the way for access to digital technology and emphasized the need to focus more on software. Technology experts from the region then discussed how to further encourage technological advancements in the region through entrepreneurship, education, private-public sector partnerships, and the creation of public policies.
---
---
Creative Thinking and Innovation
Roberto Wagmaister highlighted the transformative nature of technology: "When technology begins to mature and accelerate, it produces a velocity that generates a revolution." Wagmaister identified two fundamental factors of consideration: the transformed agent and the "human factor." He said the latter and its development should be a central area of focus of public- and private-sector efforts. Wagmaister added that development of the talent pool should target those with flexibility and adaptability from diverse sectors, including marketing, sociology, anthropology, and business.
Wagmaister identified a three-tiered system in which one has to have the ability to interact: the public, private and academic sectors. He concluded that the latter is important because of its ability to measure data. "You have to question. You have to break the status quo. You have to think outside the box."
The Role of Youth and Education
Panelists emphasized the benefits of harnessing youth to promote entrepreneurship and innovation in technology. Patricia Florissi argued that Latin America needs to begin to believe that young people can be symbols of innovation and use technology to effect progress and change. "Technology is the equalizer for all nations," she said, because it democratizes access to knowledge. Florissi also noted the need to make entrepreneurs more visible in Latin America as role models for younger generations. Sean Summers underscored the need to revolutionize the way young people are taught.
Panelists agreed on the importance of revolutionizing the education system in Latin America, noting the need to further develop science, technology, engineering, and math education domestically, as well as create more study abroad programs. "Mexico and other countries aren't going to succeed if they can't educate their populations with more science, technology, and mathematics," said James Bosworth.
The Role of the Public Sector
Another major topic of the discussion was where technology fits at the federal and local levels. Wagmaister and Florissi argued for the need to put technology on the national agenda, which Florissi stated would foment innovation and create guidelines for start-up companies. Summers encouraged collaboration between the public and private sectors in order to revamp education to encourage entrepreneurship.
Panelists also cited public policy as an important component, with Bosworth adding that it is essential for creating an ecosystem conducive to business innovation, especially bankruptcy laws and policies for starting businesses.
The Culture of Entrepreneurship in the Hemisphere
A point of extensive deliberation for panelists was the role of culture in promoting entrepreneurship throughout Latin America. Florissi described how the distinct cultural differences of the United States and Latin America affect entrepreneurship and businesses.  According to Florissi, failure is praised in the United States because it is viewed as an opportunity to learn from mistakes, while in Latin America, failure is a mark of shame.
Bosworth used Silicon Valley as an example of a place in the United States where companies benefit from being able to test the viability of a product quickly, which comes from acceptance of failures. In a society where tech companies are willing to reward risk-taking, Bosworth noted, the most successful businesses are those that have experienced various failures. However, he disagreed with Berain's comment that Latin America lacks a science- or technology-savvy community, and instead argued that there is still work to be done. Panelists agreed that while the talent pool and scientific community do exist in Latin America, individuals in them need more visibility. 
Germany, for example, was noted as a model of how to encourage the spirit of entrepreneurship. In Summer's view, the solution to facilitating entrepreneurship is to eliminate social barriers and unfavorable conditions in order to allow the culture to grow naturally.