Rousseff Extends Brazil's Regional Influence in Cuba and Haiti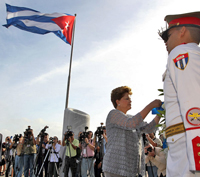 Brazilian President Dilma Rousseff traveled to Cuba on January 30, followed by a visit to Haiti on February 1. While some had hoped Rousseff would focus on human rights, given her past of being imprisoned and tortured during Brazil's military regime, the president focused on economic ties. Analysts believe Brazil's strategic trade and investments in the Caribbean and elsewhere in the developing world are part of the government's global strategy. "This is about growing Brazil's soft power on the international scale and raising Brazil's role in the world. Brazil is taking on a bigger role in the hemisphere in terms of aid and finance," Matthew Taylor, a Brazil specialist at the American University's School of International Service, told The Wall Street Journal. Rousseff's visit to Cuba and Haiti came prior to her trip to the United States in March and occurred just after the World Economic Forum in Davos, which she skipped this year.
In Cuba, investment was the order of the day. Trade between Brazil and Cuba increased 31 percent from 2010 to 2011, and reached $642 million last year. Brazil's development bank and conglomerate Odebrecht will invest in an $800 million renovation of Cuba's Mariel port, a strategic infrastructure project to increase trade. Odebrecht will also invest in Cuba's sugar industry, in a bid to increase flagging production levels. The Brazilian government will also open a $350 million credit line to Cuba to finance food purchases, and another $200 million to purchase agricultural equipment. On Tuesday, Rousseff signed several science and technology cooperation agreements, including a plan to create a geological data bank in Cuba and boost the technology center at the Ministry of Metallurgy. Rousseff also pointed to the U.S. embargo on Cuba as a source of its economic woes, and as another motive for Brazil's support of the Cuban economy.
Human rights activists hoped that Rousseff would speak out about human rights on the island, in light of her past, her tougher stance on human rights in Iran, and the death of a Cuban dissident last month. But Rousseff did not meet with dissidents, nor did she meet with blogger Yoani Sánchez, who appealed to the Brazilian president on the web to allow her to visit Brazil to see a documentary about her life. Last week, the Brazilian government issued her a tourist visa, but Brazilian officials said they could not help her receive an exit permit in order to leave Cuba.
When asked about human rights issues in Cuba, Rousseff avoided criticizing the Castro regime. "It's not possible to use human rights as a political and ideological weapon. The world needs to be convinced that it's something every country has to take responsibility for, including our own," she said. She also made reference to Guantanamo Bay, the U.S.-run prison in eastern Cuba, as an example of human rights violations. Brazil's Minister of Human Rights, Mária do Rosario, went further, reportedly saying: "Cuba's hallmark isn't one of violating human rights but actually suffering a historic violation, the American embargo." Rousseff's foreign policy advisor, Marco Aurélio Garcia, commented on Brazil's stance on human rights in Cuba: "We aren't going to tell them what to do." But human rights advocates hoped Rousseff would have taken a different approach. Elizardo Sánchez, president of the Cuban Human Rights and National Reconciliation Commission, criticized Brazil's position: "I continue to insist that Brazilian diplomacy should update its interpretation of non-intervention...because Cuba no longer respects [human rights agreements], and instead, the human rights situation has worsened in our country."
Meanwhile, in Haiti, Rousseff focused on immigration and MINUSTAH, the UN peacekeeping forces led and staffed by the Brazilian army. On Monday, the Brazilian government pledged $500,000 to help the 4,000 Haitian migrants in Brazil. Rousseff discussed her plan to award 1,200 visas to Haitians to prevent abuses from migrant smugglers. The president also reiterated the government's intention to reduce MINUSTAH troops to 1,900 by October, a 20 percent reduction. But Rousseff also proposed a training program for Haitian police with Brazilian federal police forces in preparation for MINUSTAH's withdrawal from the country. Rousseff also pledged financial support in the areas of agriculture, health, and infrastructure, reaffirming Brazil's support to help reconstruction efforts in Haiti following the 2010 earthquake. Brazil brings Brazilian doctors to Haiti to work with Cuban doctors in health clinics, and plans to expand cooperation to vaccination projects, anti-malaria campaigns, and a program based on Brazil's Zero Hunger program. Brazil also plans to invest in a $2.5 million hydroelectric project on Haiti's Artibonite River, which would provide energy to 230,000 families.
Learn more: