Ron Martin and Henry Saxe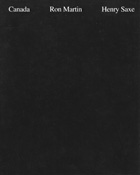 This exhibition catalogue features the work of Canadian painter Ron Martin and sculptor Henry Saxe and includes essays by Pierre Théberge and bilingual (English, French) statements by Martin and Saxe. It was  published by The National Gallery of Canada.
1978 114. pp. 23 b/w illus.