Review 91: A Year in Review, Fall 2015
This issue of Americas Society's flagship journal showcases modern and contemporary literature and arts from the Caribbean and Latin America.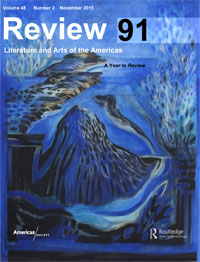 Review 91 (Fall 2015; A Year in Review) features historical texts on iconic writers whose oeuvres Review has followed through the years; showcases contemporary writers representing younger generations and various aesthetics, and pieces on the visual and performing arts in the Americas; and presents a substantial selection of reviews of creative titles in translation as well as of scholarly publications, another mainstay of Review since its founding in 1968. This issue also features contents drawn from Americas Society Literature programming. The diverse contents of Review 91 include a text by Alfred Mac Adam celebrating the centenary of the great Boom writer Julio Cortázar; a memorial piece by poet Pura López Colomé about her association with late translator Alastair Reid; texts on Mexican author Sergio Pitol by Juan Villoro and Rafael Lemus, respectively; an excerpt from Argentine author Silvina Ocampo's posthumous novel La promesa; poetry by Aimé Césaire; and fiction and poetry by contemporary writers Eduardo Chirinos, Luisa Futoransky, Lorna Goodison, and Julio Olaciregui; as well as reprints of classic material by iconoclastic poet Nicolás Guillén and others. The issue also includes public conversations with novelist Esmeralda Santiago and with authors Carmen Boullosa, Rolando Hinojosa, and Nicolás Kanellos that took place at the Society last fall. We're pleased to present the dynamic images of Cuban-American artist Lydia Rubio, introduced by critic Enrico Santí. Finally, Review 91 compiles reviews of new publications in English and English translation.
Learn more about Review and subscribe today.
Get free online access to editor's choices in Review 91.
For more information about past editions, contact:
Daniel Shapiro
Director of Literature and Editor of Review Magazine
(212) 249-8950 ext. 366
Fax (212) 249-5868
dshapiro@as-coa.org