Review 87: Mario Vargas Llosa's Legacy/Contemporary Andean Fiction & Arts
Available starting November 15, Review 87 showcases Andean writers, including Peruvian Nobel laureate Mario Vargas Llosa.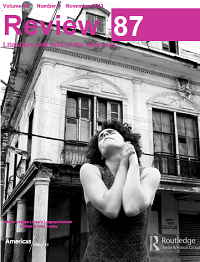 Review 87 (Fall 2013; Mario Vargas Llosa's Legacy/Andean Fiction & Arts Today) is guest-edited by Eugenio Chang-Rodríguez, Raquel Chang-Rodríguez, and Edmundo Paz-Soldán. The issue showcases essays on Nobel Laureate Mario Vargas Llosa's oeuvre by scholars John King, José Miguel Oviedo, Priscilla Meléndez, Alfred Mac Adam, and others; an interview at Americas Society with Vargas Llosa and translator Edith Grossman; and original fiction in English translation by contemporary Andean writers from Bolivia, Ecuador, and Peru, including Liliana Colanzi, Rodrigo Hasbún, Esteban Mayorga, Giovanna Rivero, Santiago Roncagliolo, Carlos Yushimito and many others. The issue also includes a memorial piece on Peruvian poet Antonio Cisneros; features on contemporary Andean visual arts and music; and book reviews of new work in translation on Vargas Llosa as well as titles by Isabel Allende, Earl Lovelace, Santiago Roncagliolo, and others.
For more information about past editions, contact:
Daniel Shapiro
Director of Literature and Editor of Review Magazine
(212) 249-8950 ext. 366
Fax (212) 249-5868
dshapiro@as-coa.org