Review 84: Women Travelers to Latin America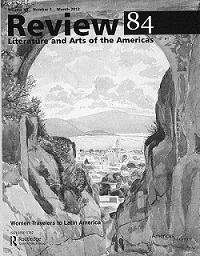 Review 84, guest-edited by Méndez Rodenas, covers seminal women travelers in Latin America such as Flora Tristan, the French-Peruvian writer and social activist, as well as contemporary writers who address the theme of travel. Scholarly contributions include essays by critics on Tristan; on writer, artist, and ecologist Maria Sibylla Merian, who traveled to Suriname in 1699 to research and document insects and flora; on Victorian Scotswoman Lady Florence Dixie, who wrote about her adventures in Patagonia; and on Countess Paula Kollonitz, the lady-in-waiting to Empress Carlota, during Maximilian's ill-fated reign in Mexico. The essays are complemented by illuminating texts by the travelers themselves. Other contributions include fiction by modern and contemporary writers, including the late Antonio Benítez-Rojo, Argentine novelist Pola Oloixarac, Mexico-based U.S. author Michael Schuessler, and Chilean writer Carlos Franz. The issue also features an essay by art critic Alicia Lubowski on the influence of Humboldt on women traveler-artists and includes reviews of new titles in translation by Latin American and Caribbean writers.
Learn more or purchase Review 84. Subscribe to the magazine.
For more information about past editions, contact:
Daniel Shapiro
Director of Literature and Editor of Review Magazine
(212) 249-8950 ext. 366
Fax (212) 249-5868
dshapiro@as-coa.org