New Image Painting: Argentina in the Eighties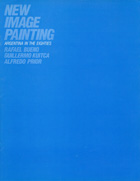 This is the exhibition catalogue of the three contemporary Argentine painters, Rafael Bueno, Guillermo Kuitca, and Alfredo Prior who work in a style influenced by international expressionist currents, yet strongly tied to their native country. The catalogue includes essays by Louis Grachos and Jorge Glusberg.
1989   7 pp. 3 color illus.