Moderno: Design for Living in Brazil, Mexico, and Venezuela, 1940–1978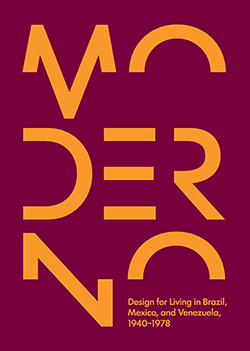 Contributors and essay topics include:
"Lingua Franca for the Future" by Gabriela Rangel
"Cannibal Homes: Additive Modernity and Design by Absorption in Brazil, Mexico and Venezuela, 1940–1979" by Jorge F. Rivas Pérez
"Miguel Arroyo and Pottery" by Lourdes Blanco
"Social Utopia and Modern Design in Latin America" by Ana Elena Mallet
"Modern Lifestyles: Clara Porset and the Art of Exhibiting the Mexican Home" by Christina L. De León
"Modern Brazilian Design" by Maria Cecilia Loschiavo dos Santos
"Design's Bureaucratic Unconscious" by Luis M. Castañeda
"Exhibition of a Modernist House (considerations)" by Mário de Andrade
"North American Interiors: Contemporary Examples" by Clara Porset
"Modern Furniture for a Colonial House" by Miguel Arroyo
"Living Design: In Search of Our Own Kind of Furniture" by Clara Porset
"In South America: After Le Corbusier, What Is Happening?" by Lina Bo Bardi
"Ambient Planning: 'Design' at an Impasse" by Lina Bo Bardi
"Tecla Tofano: Ars Politica" by Marta Traba
"Lesson in Architecture Lesson — for Oscar Niemeyer" by Ferreira Gullar
"Interview with Oscar Niemeyer" by Maria Cecilia Loschiavo dos Santos
"Interview with Sergio Rodrigues" by Maria Cecilia Loschiavo dos Santos
"Designer Biographies" by Amanda York
Learn more about the exhibition.
Complete with plates section, exhibition checklist, and bibliography.
Hardcover: 280 pages
Price: $50 (non-member) / $40 (AS member)