Medellín's Other Success Story: How the City Cleaned Up its Water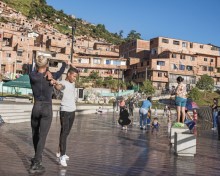 This article is adapted from AQ's latest issue on the politics of water in Latin America | Leer en español
MEDELLÍN – For much of the 20th century, the Medellín River was an open sewer, collecting the untreated human and industrial waste of the Aburrá Valley.
Stretching through the valley's center, Medellín — a fast-growing city with a reputation for entrepreneurship— turned its collective back and closed...
Read this article on the Americas Quarterly website. | Subscribe to AQ.