Lydia Cabrera: between the sum and the parts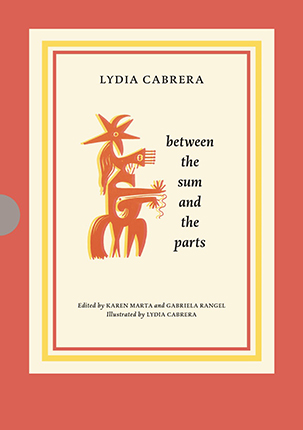 Edited by Karen Marta and Gabriela Rangel and illustrated by Lydia Cabrera, Lydia Cabrera: between the sum and the parts is a fully illustrated publication dedicated to the Cuban thinker.
Ever the trickster, Lydia Cabrera blurred the lines between historian and storyteller, reality and fiction. Finding their initial audience in the avant-garde milieu of interwar Paris, Cabrera's stories influenced by Afro-Cuban myths and folktales continue to delight and inspire generations of artists, writers, and scholars. When the rise of fascism forced Cabrera's return to her native Cuba, she devoted her life to the preservation of Afro-Cuban cultures, work that culminated in her scholarly masterpiece, El Monte, in which the voices and rituals of the dead animate Cuba's wilderness. The first English volume dedicated to her life and work, this publication introduces her substantial legacy to a new audience.
Table of Contents:
"Time Fights the Sun and the Moon Consoles the Earth" by Lydia Cabrera
"Caribbean Anthropoetics" by Christopher Winks
"Her Phantom Cuba" by Gabriela Rangel
"Arerbac Arerbac" by Hans Ulrich Obrist
"On Becoming the Archive" by Martin A. Tsang
"Memories of Alexandra Exter" by Lydia Cabrera
"Art Beyond Art" by Asad Raza
"Arere Marekén" by Lydia Cabrera and Alexandra Exter
Selected Bibliography
Contributors
Afterword by Susan Segal and Dr. Julio Frenk
Acknowledgments