Long Debate Ends in Pemex Reform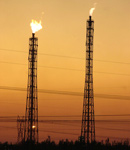 After months of debate and political wrangling, Mexico's Congress approved an energy reform package that seeks to help the state oil company boost falling production. Despite attempts by opponents to block the reform by seizing the Chamber of Deputies' podium, the lower house overwhelmingly passed the seven measures by a vote of 395-82 on October 28. However, though protesters—led by former Mexico City Mayor Andres López Obrador—marched in the capital and called the reform a violation of sovereignty, some analysts question whether the reform package goes far enough to attract investors.
With the country's oil industry accounting for roughly 40 percent of the Mexican budget, a Petróleos Mexicanos (Pemex) production slump has long been a source of concern. In March, Mexico's Energy Secretary Georgina Kessel warned that production could drop by as much as 800,000 barrels a day by 2012. In the first nine months of 2008, Pemex produced 9.7 percent less oil than in the same period of 2007. Mexico imports more than 40 percent of its gasoline because the firm lacks sufficient refining capabilities. The firm's tax burden has also hobbled Pemex; Bloomberg used new Pemex figures to calculate that the firm logged third quarter losses of 14.3 billion pesos because of rising tax and royalty bills, despite record oil prices.
With an eye to such figures, the administration of President Felipe Calderón proposed the reforms in April to pave the way for contracts with private firms to build construction and broaden exploration efforts—particularly for deep-water reserves in the central Gulf near the U.S. and Cuban boundaries. He emphasized that Pemex, nationalized in 1938, would remain a state firm "petroleum is and will continue to belong exclusively to Mexicans." Opposition leaders warned the reforms threatened to lead Pemex down the path of privatization and staged a series of protests, including a barricade of the lower house's podium for two weeks. For nearly two months this summer, over 160 experts came together to debate and present solutions for fixing Pemex.
After facing this series of hurdles, the passage of the reform represents a victory for Calderón in terms of getting controversial legislature through Mexico's Congress. In an interview with Televisa, Energy Secretary Georgina Kessel predicted that profits gained through the energy reform could help bump up GDP growth by 1 percent and create 300,000 jobs in three to five years. Pemex head Jesús Reyes Heroles said the new laws could help Pemex operate with greater efficiency and transparency.
But some have wondered whether the package that ultimately made its way through Congress lacks the necessary punch. Energia.com's George Baker praised the reform for strengthening the autonomy of Pemex's management, creating citizen bonds for investment in the firm, and allowing for greater contract flexibility and performance bonuses for contractors. Yet he warns, "[T]here is nothing, specifically, that will help Pemex or Mexico move into a serious program of deepwater exploration and development." The Houston Chronicle calls the package "a watered-down" version of the original proposal, noting that it does not allow for foreign companies to lease concession blocks in the Gulf or invest in oil refining, thereby weakening Pemex's hand in terms of partnering with private firms to build technological capacity.
However, Jeremy Martin of the Institute of the Americas writes that, while the reform may not seem sufficient to draw oil firms, "it is an important incremental step that will at least offer some needed tweaks at Pemex."