Letter from the President: Looking ahead to 2021
AS/COA is committed to facilitating collaboration and dialogue to help the region recover and thrive, writes President and CEO Susan Segal.
We write this letter at the end of one of the most arduous years of our lifetimes. As we reflect on what has transpired, we mourn the tremendous losses experienced in the Americas as a result of the COVID-19 pandemic and are humbled by the tasks of rebuilding that lay ahead. We are also grateful for the AS/COA community of supporters and the optimism that we now see emerging throughout the world.
Beyond what anyone could have anticipated, 2020 demanded innovation from all of us. We immediately transitioned to the new digital world, and I am so proud of our team's rapid transformation. We pivoted to host all of our events digitally, from virtual missions and networking events such as the Women's Hemispheric Network to our Latin American Cities Conferences, which have drawn record audiences this year. We've successfully hosted more than 200 public and private virtual programs with presidents, ministers, and business leaders. We've also maintained a comprehensive COVID-19 tracker on our website that has been cited by news outlets around the world. The transition to virtual programs has allowed us to expand our reach to allow simultaneous participation from individuals spread across the globe, furthering our mission to foster dialogue on the most pressing issues in the Americas. I am particularly pleased with the work we've done through our Healthcare Series, which has brought together some of the region's leading experts and officials from the public health space, at a time when their insight was absolutely critical. Our magazine, Americas Quarterly, has strengthened its position as the preeminent publication tackling the toughest topics in our region, such as ideas for a post-COVID Latin America and the persistent gender gap.
Our cultural programs have provided for a much-needed respite from the everyday challenges of isolation that many have experienced. Through Visual Arts and Music, we have invented new ways of bringing cultural programs into our members' homes, from fascinating In the Studio conversations with artists to Music of the Americas: En Casa and member receptions to meet the musicians. Thanks to the positive feedback and increased participation we've received, we can assure you that the digital experience is here to stay as part of AS/COA programming.
As the year draws to a close, we look ahead toward 2021 with optimism and resolve. The challenges facing the region are numerous and profound. AS/COA is committed to doing our part in facilitating collaboration and dialogue to help the region recover and thrive. None of this would be possible without the support of our members and funders, for which we are immensely grateful.
With that in mind, I invite you to please consider showing your support to Americas Society and the work that we do. If you have not yet, please consider making a tax-deductible contribution to the Americas Society, a 501(c)(3) organization, or by joining or renewing as a valued Americas Society member. 
Thank you so very much for showing your support. We wish you health and happiness in the new year, and I look forward to seeing you at our policy and cultural programs, whether online or in person.
Sincerely,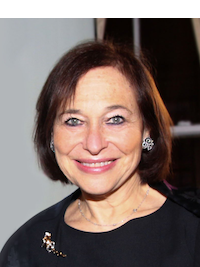 Susan L. Segal
President and Chief Executive Officer