LatAm in Focus: Three Stories You May Have Missed in 2022
Learn about Mexico's big vacation boost, Chile's vision for digital rights, and Lima's new—and controversial—mayor. 
 
New to the podcast? Check out past episodes and learn more about Latin America in Focus, and subscribe on Amazon, Apple, Spotify, Google, Soundcloud, or Stitcher.
2022 brought Latin America polarized elections, creeping inflation, and even a World Cup championship. To round out the year, we bring you three stories you may have missed.
To start, December is a time of year when most people in the Americas are gearing up for a holiday break. On that front, Mexicans have something to celebrate after long having one of the lowest vacation rates in the world—well below the regional average of 15 days per year. In recent weeks, Mexico's Congress approved a law that will double the time from 6 to 12 days. The country also upped the minimum wage by 20 percent, well above inflation rates.
In the opening segment, Executive Director of economic think tank México ¿Cómo Vamos? Sofía Ramírez Aguilar explains why the country has lagged the region on both fronts and how it can bring improvements for quality of life, productivity, and the economy overall. "We are one of the countries that works most per capita, but that doesn't mean we work correctly," she tells Carin Zissis.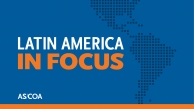 Latin America in Focus Podcast
Subscribe to Latin America in Focus, AS/COA's podcast focusing on the latest trends in politics, economics, and culture throughout the Americas.