LatAm in Focus: How Latin America Is Fighting Inflation
Policy Center for the New South and former World Bank VP Otaviano Canuto explains how the region can avoid inflation déjà vu.
New to the podcast? Check out past episodes of Latin America in Focus and subscribe on Amazon Music, Apple Podcasts, Google Podcasts, Soundcloud, Spotify, and Stitcher.
---
Amid pandemic-related sluggish growth worsened by the Ukraine crisis, nearly four dozen central banks around the world have increased interest rates to fight inflation. 
A number of Latin American countries started taking that step earlier this year—even before than the U.S. Federal Reserve announced its largest interest rate hike in 28 years on June 15. Latin American governments have also taken steps like subsidizing fuel costs, implementing cash transfers, and pandemic relief programs.
But do these measures work, and what has Latin America learned from past cycles of inflation? For one, says Senior Fellow for the Policy Center for the New South Otaviano Canuto, countries need to end a vicious cycle. "The trick is always—when inflation ran away and was out of control, and expectations are holding it at very high levels—is to find a way to delink and break expectations about inflation and the currency."
The former World Bank vice president spoke with AS/COA Online's Luisa Leme about how the region is better positioned than in the past to fight inflation, despite facing a global crisis of "apocalyptical" proportions. "They will feel the brunt of the interest rate hikes here in the U.S. but not something similar to the disasters that we had in the past," he says.
Inflation can also have a political impact. As voters in the region demand change and inflation-fueled hunger grows, Canuto warns of the risk of more social unrest. For him, inflation is a factor in weak support for President Jair Bolsonaro, who is seeking reelection in Brazil. He also says some of the new political faces in the region could struggle to produce results for their supporters. "Typically, populists promise things that cannot be reached."
The episode also discusses another malady affecting Latin America: corruption. Host Carin Zissis speaks with AS/COA Vice President and Americas Quarterly's Editor-in-Chief Brian Winter about the fourth edition of the Capacity to Combat Corruption Index, a report published in partnership with Control Risks that measures 15 Latin American countries' ability to detect, punish, and prevent corruption. He says the latest Index shows mixed results, with the region's two biggest economies, Brazil and Mexico, dropping in the rankings, but other countries showed resiliency. Says Winter: "The main takeaway is that the anti-corruption drive is not dead."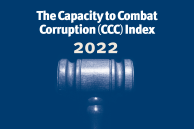 The 2022 Capacity to Combat Corruption Index
The fourth edition of AS/COA and Control Risks' CCC Index explores 15 Latin American countries' ability to detect, punish, and prevent corruption.