LatAm in Focus: Creating, Rebuilding, and Reinventing Latin American Cities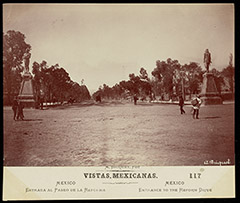 A historical view of Paseo de la Reforma.
Four in five Latin Americans live in cities, and that's more than twice the rate of those who did in 1950. How did these urban areas, which define the lives of the vast majority of people in the region, become the cities we know today? What does it take to help them withstand shifts and shocks, and to prepare for tomorrow as officials come and go? In this episode of Latin America in Focus, we explore the answers in a look at the history and future of Latin American cities.
First, AS/COA Online's Carin Zissis catches up with Eugene Zapata-Garesché, 100 Resilient Cities' regional director for Latin America and the Caribbean, on the sidelines of a Mexico City summit that brought together representatives from cities around the world ranging from Quito to Cali to Christchurch to share experiences for urban earthquake preparedness. Zapata-Garesché, who also spoke with Zissis after the Mexican capital's 2017 earthquake, talked about how new tools like social media and public bike-share programs are changing disaster response.
Beyond disasters, he explains why cities both in Latin America and beyond play a leadership role on issues such as climate change, migration, and human rights, citing the example of Mexico City, which was the first place in the country to legalize same-sex marriage and abortion. "Cities-and Latin America is not an exception-are the leading the public policy agenda," says Zapata-Garesché.
But the region's cities have a long history of carrying countries into the future. In the second segment, AS/COA Online's Luisa Leme speaks with Maristella Casciato and Idurre Alonso, co-curators of The Metropolis in Latin America, 1830–1930 an exhibition running through June 30 at the Americas Society gallery. The exhibition, organized by the Getty Research Institute in Los Angeles, explores how, over the course of a century, rapid urban growth, sociopolitical upheavals, and cultural transitions reshaped the architectural landscapes of six capitals: Buenos Aires, Havana, Lima, Mexico City, Rio de Janeiro, and Santiago.
But even as we near one hundred years since the end of the period covered in the exhibition, the curators cover links to the present. As Alonso explains, "Gentrification is not new."
---
---
This podcast was produced by Luisa Leme.
The music in this podcast was performed by Amadeo Roldán and Revueltas at Americas Society in New York. Learn more about upcoming concerts at musicoftheamericas.org.