LatAm in Focus: Chile's Busy Electoral Calendar
Adolfo Ibáñez University's Isabel Aninat spells out what's at stake in each vote, from the selection of constitutional delegates to the country's next president.
Chileans are gearing up to vote for pretty much everything in 2021, including a new president at the end of the year. But right now that election is far down the road, given that voters must first choose local leaders, governors for newly created regional authorities, and delegates for a constitutional convention on May 15 and 16.
That vote for 155 delegates is the second step in the country's process of rewriting its Constitution. Isabel Aninat, dean of Adolfo Ibáñez University's law school, tells AS/COA Online's Luisa Horwitz why it's an important one. While an October 2020 plebiscite saw overwhelming portion of voters backing—then celebrating—the decision to rewrite the country's Magna Carta, Chile is in a "complicated political situation" with a government that faces dim presidential approval ratings and "low trust in institutions such as Congress and political parties," says Aninat. Now, the vote for delegates brings new, independent faces to the scene. There are 17 seats reserved for indigenous representatives and a requirement for gender parity in representation. Once chosen, the body then has 12 months to draft the document, which will be put to the public for ratification in 2022.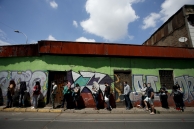 LatAm in Focus: On the Ground during Chile's Year of Change
Santiago-based journalist John Bartlett talks about covering the protests and a vote to rewrite the country's constitution, even as a pandemic bore down. 
Chile: Toward a New Constitution
The constitutional convention opens a door to a new political arena in a presidential election year, said experts in an AS/COA panel.