LatAm in Focus: Can a Lawsuit Stem Spyware Use in Central America?
After getting hacked by Pegasus in El Salvador, El Faro's Roman Gressier is part of a groundbreaking lawsuit in a U.S. court to rein in the spyware.

It happened four times. Roman Gressier, a journalist at Salvadoran outlet El Faro, discovered in 2021 that his phone had been infected by the Pegasus spyware software, giving someone access to all of his smartphone activity. 
But who?
That's the question at the center of a groundbreaking case Gressier and his colleagues have filed in a U.S. court. They're hoping to get NSO Group, the Israeli company behind the Pegasus software, to reveal its client and block it from hacking their phones again.
"There's a complete lack of accountability for these attacks."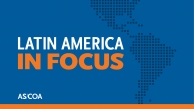 Latin America in Focus Podcast
Subscribe to Latin America in Focus, AS/COA's podcast focusing on the latest trends in politics, economics, and culture throughout the Americas.