The Immigration Waiting Game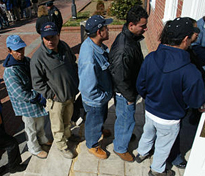 The White House hosted another immigration meeting in August, days after a summit in Mexico when U.S. President Barack Obama predicted no movement on comprehensive immigration reform until next year. Delay has been the name of the game when it comes to U.S. immigration policy; another White House meeting was postponed twice earlier in the summer. Meanwhile, the ailing economy that's eaten up much of the administration's time has shown its impact in immigrant circles as well, with the number of migrants coming to the United States and remittances sent home on the decline.
Advocates for immigration reform may have to wait, but the Department of Homeland Security announced a change August 18: U.S. Immigration and Customs Enforcement (ICE) head John Morton said that the agency suspended the policy of requiring fugitive operation teams to fulfill arrest quotas. As The San Francisco Chronicle's Melting Pot blogger Tyche Hendricks writes, the quota system begun in 2006 led to a jump in the "proportion of people arrested who were neither convicted criminals nor immigration fugitives but 'collateral arrests' of people suspected of being illegal immigrants who were encountered by agents on the street or in homes."
La Opinión called Morton's announcement "a tiny bit of relief in the midst of a generally worrisome landscape," given the recent disclosure that 104 people arrested by federal agents have died in immigrant  detention centers since 2003. Moreover, research published by the Center for Investigative Reporting in June found that the number of cases in immigration courts has swelled to 200,000, with more than 30,00 people "in immigration lock-up" at any time. Such news, coupled with reports that legal immigration could give the U.S. economy a much-needed boost, only increases pressure for immigration reform.
But the same economic woes slowing the reform process also show signs of slowing how many immigrants arrive in the United States. A July report by the Pew Hispanic Center found that the number of migrants from Mexico—the main country of origin for U.S. immigrants—dropped significantly in recent years.
On top of that, remittance flows to Latin America are slowing and could drop as much as 11 percent, according to an August report by the Inter-American Development Bank (IDB). Mexico saw a decrease of more than 15 percent in June compared to the same month during the prior year. Last year, remittances accounted for 19 percent of household income in Mexican urban areas and 27 percent in rural areas, reports the Latin American Herald Tribune. The decline could hit El Salvador, which leads the region in per capita remittances, particularly hard. With more than 22 percent of families in the Central American country receiving money sent home from migrants abroad, El Salvador's Central Bank reported that remittances dropped 11 percent in the first seven months of 2009 compared with the same period last year. Ecuador has seen an even sharper decrease, with remittances dropping 21 percent in the first half of 2009.
Learn more: