Hyperallergic Says That AS Offers "An Artistic Take on the Unshakeable El Dorado Myth"
The arts magazine includes Americas Society's El Dorado exhibit in its Fall 2023 New York Art Guide
The legend of El Dorado looms large in our collective imagination. The South American metropolis with streets of gold and unfathomable riches has made frequent appearances on the silver screen, and a simple Google search returns pages of restaurants and businesses bearing the fictitious city's name.
Now, in collaboration with the Fundación PROA in Buenos Aires and Museo Amparo in Puebla, Mexico, the Americas Society is offering an artistic take on the unshakeable myth.
An exhibition of historical and contemporary works will speak to — and challenge — the legend of El Dorado and explore its role as a forceful narrative about the Americas.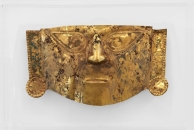 At AS: Exhibition Explores the Myth of El Dorado From the Precolonial Period to Today
The show, which runs until May 18, brings together more than 100 objects and artworks that explore the myth as a foundational narrative of the Americas