Honduran President Ousted by Military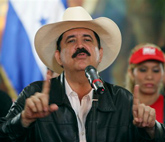 Updated June 28, 2009 - Honduras' military overthrew the country's president on June 28 after he and supporters attempted to push through a controversial constitutional referendum. The country's Congress says it voted to accept a letter of resignation from President José Manuel Zelaya and named congressional speaker Roberto Micheletti as interim president. But Zelaya, who was taken in his pajamas to neighboring Costa Rica on Sunday morning, decried his arrest as a "kidnapping" and said he did not pen such a letter. During a press conference in San José, he says he plans to serve out the remainder of his term. Zelaya's arrest, which Costa Rica's La Nación reports was ordered by the Honduran Supreme Court, has drawn international concern and criticism as well as a warning by Venezuela's President Hugo Chávez that his troops were on alert.
The crisis follows heightened tensions over a constitutional referendum scheduled for Sunday.  The Honduran Congress outlawed the referendum, which asked voters to approve a process for constitutional change. That led to a tit-for-tat pitting President Manuel Zelaya against not only the Congress, but also the Supreme Court, the military, and members of his own party.
What would have been amended in the constitution as a result of the referendum was not clear. Honduras' next presidential elections take place in November and Zelaya would step down in early 2010. Although any reform would not occur until after that, opponents say Zelaya planned to use Sunday's vote to strengthen his executive mandate and seek reelection. Had that occurred, the president would have been following in the footsteps of other current Latin American presidents, such as Venezuela's Hugo Chávez, Bolivia's Evo Morales, Ecuador's Rafael Correa, and Colombia's Álvaro Uribe. Unlike those counterparts, Zelaya faces problems with low popularity. An April 2009 Mitofsky poll found that he commanded the lowest approval rating (25 percent) out of 18 regional leaders. Honduras' La Prensa outlines online signs of voter disapproval of the referendum. But, in an interview with El País conducted in the days leading up to Zelaya's arrest, the president said he had every intention of stepping down as scheduled in January.
After Congress declared the Sunday referendum illegal last week, Zelaya found himself in a standoff with the country's main institutions. Honduras' Supreme Court and electoral tribunal also declared the referendum illegal and, when the armed forces refused to distribute the ballots, Zelaya ousted armed forces chief General Romeo Vásquez. Top army officials and the defense minister resigned in protest. The court ordered Vásquez reinstated, Zelaya refused, and the attorney general said Congress should force the president to step down, questioning his mental stability. The Catholic Church in Honduras joined in voicing opposition to the referendum.
On Thursday, Zelaya led supporters to collect referendum ballots from the air force headquarters. Meanwhile, hundreds of members of the armed forces were deployed to maintain order. On Friday Zelaya delivered a two-hour speech during which he said: "Congress cannot investigate me, much less remove me or stage a technical coup against me because I am honest, I'm a free president and nobody scares me."
With the crisis unfolding, governments across not only the Western Hemisphere but around the world voiced criticism of the coup. Costa Rican President Oscar Árias, who held a press conference alongside Zelaya, called for restoration of constiutional order. U.S. Secretary of State Hillary Clinton urged Honduras to follow rule of law, saying Zelaya's arrest "violates the precepts of the Inter-American Democratic Charter, and thus should be condemned by all." The 27 foreign ministers of the European Union also released a statement criticizing the overthrow. Argentina's President Cristina Fernández de Kirchner described the coup as "a return to barbarism" and urged regional bodies such as the OAS and UNASUR to assist in restoring Zelaya to the presidency. Brazilian President Luiz Inácio Lula da Silva called the coup an "attack on democracy." The OAS declared that "no government arising from this unconstitutional interruption will be recognized."
Zelaya heads on to Nicaragua today for a Monday meeting with leaders of the Central American Integration System (SICA). In addition to the SICA meeting, Chávez headed to Managua for an emergency meeting of the Bolivarian Alternative for the Americas, of which Honduras is a member. The Venezuelan leader, who called on citizens of his country to protest the Honduran coup, called for a "continental battle" to restore Zelaya to the presidency. He also accused the "Yankee empire" of playing a role in the coup. Caracas and Washington reestablished diplomatic ties this week, taking steps to restore envoys.
Even as countries voiced opposition to the coup and said Zelaya remains the president of Honduras, Micheletti delivered a speech after congress swore him in and said the country will hold elections on November 29.
Learn more: