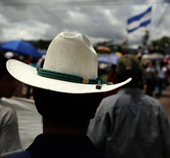 Various observers point out that the clock keeps ticking with no solution to the crisis in Honduras. More than six weeks since the Honduran military woke President Manuel Zelaya and sent him packing in his pajamas, the deposed leader continues traveling the Americas to bolster support for his return. Thus far, the interim government has resisted calls for Zelaya's reinstatement and maintains that he planned to carry out a referendum deemed unconstitutional. While the de facto leaders seem intent on biding time until November elections, the country finds itself increasingly isolated, given international calls to reach a deal that would allow Zelaya's return.
Under a proposal charted by mediator Costa Rican President Óscar Arias, Zelaya would regain office with compromised mandate. Those negotiations stalled. The Organization of American States (OAS) then proposed sending a delegation of foreign ministers on August 18 to meet with the de facto government of Roberto Micheletti with the hopes of pushing through the accord. Interim leaders pressured the OAS to ensure that its Secretary-General José Miguel Insulza would only serve as an observer rather than a mediator, saying he would fail to remain impartial. The time spent haggling over that issue pushed back the delegation date to August 21.
Even as negotiations move slowly, the interim government finds itself facing ongoing pressure. At North American and South American summits held simultaneously earlier this week, leaders again condemned the overthrow of Zelaya and urged his reinstatement. At the Union of South American Nations (UNASUR) summit in Quito, presidents attempted to make it clear that the interim government can't slip under the radar by waiting out the period until elections: UNASUR leaders said they would not recognize a Honduran election held under Micheletti's watch.
Meanwhile, Zelaya continues his hemispheric tour. Last week he visited Mexico, went on to Ecuador for the UNASUR meeting, and spent the past couple days meeting with presidents in Brazil and Chile. During his most recent travels, Zelaya urged the United States to step up pressure on the interim government through methods such as trade sanctions. The United States is Honduras' main trading partner. The White House has not yet officially declared Zelaya's overthrow a coup, nor has it imposed sanctions on Honduras.
At the North American Leaders Summit in Guadalajara on Monday, U.S. President Barack Obama said Zelaya should return and urged peaceful resolution to the crisis. But he also suggested that Washington couldn't be pushed to play a unilateral role. "The same critics who say that the United States has not intervened enough in Honduras are the same people who say that we're always intervening, and the Yankees need to get out of Latin America," said Obama. "You can't have it both ways."
Some U.S. officials have thrown support behind the interim government. A group of Republican senators held up U.S. State Department confirmation of two nominees for Western Hemisphere posts as a means to lodge a complaint against the Obama administration's handling of the crisis. Moreover, a delegation of members of U.S. Congress visited Honduras at the end of July to meet with the de facto government. On August 12, Congressman Connie Mack (R-FL) released a report from the trip saying "Zelaya's presidency had been wrought with various crises which ranged from his attempt to move and cancel the primary elections to dissolving the Honduran Supreme Court." The report also indicated that "life was normal in the streets" during their trip.
In the past few days, however, thousands of Zelaya supporters protested in Tegucigalpa, leading to clashes with police forces and the military. Ramon Custodio, the interim government's leading human rights official, called the decision to exile Zelaya an "error." Except for a dramatic weekend at the Nicaraguan border when the deposed leader essentially stuck his toe into Honduras, Zelaya has not returned to Honduras since June 28.
Learn more: