Highlights from IE Singapore's 2013 Latin Asia Business Forum
AS/COA President and CEO Susan Segal and COA Vice President Eric Farnsworth participated in panels on Asia-Latin America ties.
Americas Society and Council of the Americas partnered with IE Singapore for the 2013 Latin Asia Business Forum (LAB)—now in its tenth year—held on October 2, 2013 in Singapore. AS/COA President and CEO Susan Segal moderated the keynote panel "The Asia-Latin America Partnership in a Global Context," featuring Singapore's deputy prime minister and minister for finance as a panelist.
"As key emerging markets, Asia and Latin America were hailed as the new drivers of global growth, and they have fundamentally reshaped the global economic landscape," LAB wrote of the panel. "Recent global events have, however, raised some questions about the growth prospects of both regions. In spite of this, the trade and investment linkages that Asia and Latin America have developed over the past decade have created a strong foundation for the future of this crucial inter-regional partnership."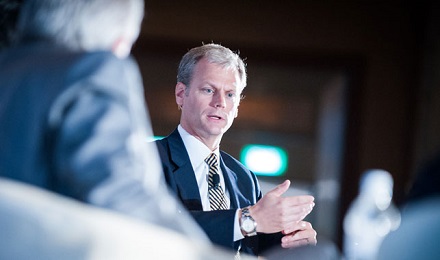 COA Vice President Eric Farnsworth speaks at LAB.
In addition, COA Vice President Eric Farnsworth moderated a discussion on opportunities in Latin America's oil and gas sector. "With Latin America's vast energy resources and Asia's growing energy needs, there are promising prospects for collaboration between the two regions in this sector, both in terms of upstream exploration as well as downstream trade flows," explains LAB.
Hosted in Singapore since 2004, LAB has been the premier platform for fostering investment, trade, and thought leadership between Asia and Latin America. The Forum has brought together close to 3,000 business and government leaders from 50 countries to develop opportunities and partnerships between these two dynamic regions. LAB 2013 addressed critical issues and identify opportunities for the strategic growth of both regions, and featured panel discussions on consumer markets, oil and gas, and infrastructure.