Haiti Update: Delayed Legislative Elections Take Place Ahead of Presidential Vote
Four years late, Haitians at last chose their next parliament, which dissolved in January when legislators' terms expired.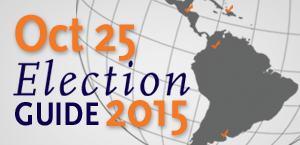 On August 9, Haiti carried out overdue legislative elections to fill two-thirds of the Senate and the full Chamber of Deputies. But disturbances caused dozens of voting centers to close, and nearly 300,000 people couldn't vote, reported the AFP. The election set the stage for the October 25 presidential vote as President Michel Martelly winds down his time in office.
Out of Session: Reviving Haiti's Parliament
Delayed since 2011, the vote came after the country's parliament dissolved in January of this year when the terms of many legislators ran out. Since then, Martelly has ruled by decree.
On Sunday, voters had a huge pool to choose from: more than 1,800 candidates for 20 seats in the Senate and 199 seats in the lower house. For some chamber seats, more than 30 candidates fought for the same spot, and upwards of 100 political parties participated.
Though voters had a large number of candidates to choose from, the quality of parliamentary hopefuls was mixed. According to Haiti's National Human Rights Defense Network (known as the RNDDH), dozens of candidates had criminal records. Under the country's electoral law, candidates are eligible for immunity from prosecution, as are legislators for the duration of their term.
Haiti's Provisional Electoral Council (CEP) is responsible for assessing candidacies. But this year, the council didn't require candidates to show that they lacked a criminal record. As a result, alleged criminals may make their ways to the halls of parliament. "These elections will unleash a post-electoral crisis because the CEP didn't do its job," said RNDDH Assistant Program Director Marie Yolene Gilles.
Preliminary results are due on August 19, with final results to be published on September 8. A runoff will be held on October 25, the same date as the presidential election.
Observing the Overdue Vote
The Organization of American States sent observers to monitor the run-up to the vote. In an August 10 press release, the OAS noted that, "Despite some incidents of violence, most polling stations were able to conclude their operations as planned, and characterized the holding of the elections as a step forward for Haitian democracy." Around 54 voting centers encountered disturbances, or about 4 percent of the total.
Still, a preliminary report released the same day detailed confusion over voting procedures and voters having to cast their ballots in close quarters with poll workers. The Miami Herald reported problems with the political parties' observers, some of whom couldn't do their jobs or reported fraud among electoral workers.
Elena Valenciano, the head of the EU observer mission, said turnout was low, though exact numbers were not yet available. Pre-election estimates put turnout at 15 percent of the nearly 6 million Haitians registered to vote.
Gearing Up for the Presidential Vote
The legislative election served as a test run for the October 25 presidential vote. Though Martelly is ineligible to run for reelection, dozens of candidates from his so-called Haitian Bald Headed Party are running for president. Candidates are also running on the Truth Party ticket, which belonged to ex-President René Préval. In total, close to 60 candidates are vying for the country's highest office. The next president will serve for a five-year term.
However, some would-be hopefuls were barred from entering the race.
In June, the CEP blocked the candidacies of former Prime Minister Laurent Lamothe and six other former ministers. All of them lacked a certificate from the legislature assuring that they had not engaged in corruption during their government service. Lamothe resigned in December following protests over the delayed elections.