Five Figures that Sum Up Gustavo Petro's First Six Months
AS/COA Online looks at major issues shaping the Colombian president's first half year in office.
Colombian President Gustavo Petro came to power on the heels of momentous protests and a widespread desire for change in his country—and the region. His victory in June 2022 added to what has been a long streak of incumbent parties losing to the opposition in Latin American presidential elections. 
The former Bogotá mayor also made history August 7, 2022 when he was sworn in as Colombia's first leftist president, while his running mate Francia Márquez became the country's first Black vice president. Petro has taken steps toward big changes, whether it be calling for a halt to oil exploration, bumping up taxes on the wealthy, demanding a reconsideration of the war against drugs, or trying to negotiate peace with the dozens of rebel groups still in operation in the country. 
So, as he marks a half year in office, how is he faring? As he pushes for major reforms, Petro's approval sits at 39 percent, down from 48 percent in October. Given that protesters—frustrated by economic inequality—took to the streets during his predecessor's government, Petro in February announced a $247 billion national development plan that would seek to lift Colombians out of poverty. Still, inflation reached 13.25 percent in January—the highest it's been since 1999. AS/COA Online looks at five numbers to summarize his first six months in office.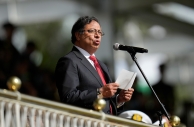 Understanding the Petro Government's Tax Reform
A day after his August 7 inauguration, Colombia's president sent the signature reform to Congress. AS/COA Online talks to experts about what it entails.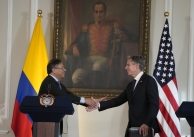 Roundup: Secretary Blinken's Trip to Colombia, Chile, and Peru
The U.S. secretary of state headed to South America to meet with the new presidents and attend the OAS General Assembly.