Roundup: Secretary Blinken's Trip to Colombia, Chile, and Peru
The U.S. secretary of state headed to South America to meet with the new presidents and attend the OAS General Assembly.
During the week of October 4, U.S. Secretary of State Antony Blinken headed to Colombia, Chile, and Peru to meet presidents and discuss cooperation on drug policy, climate change, security, trade, and migration. He also attended the OAS General Assembly in Lima. The trip comes as observers note that China is making continued inroads in the region at Washington's expense.
AS/COA Online summarizes the secretary's trip to Colombia, Chile, and Peru.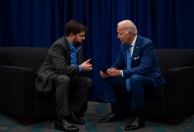 The United States Should Jumpstart Its Latin America Outreach, Starting with Chile
A pending tax treaty with Chile would allow Washington to grow ties with the region's "new left," writes AS/COA's Steve Liston in World Politics Review.