Americas Society
Council of the Americas
Uniting opinion leaders to exchange ideas and create solutions to the challenges of the Americas today
Extracción de recursos naturales, desarrollo económico e inclusión social
CASOS DE ESTUDIO
SOBRE ESTE PROYECTO
En 2012, con el apoyo de la Fundación Ford y de la mano de investigadores locales, Americas Quarterly llevó a cabo un estudio sobre las industrias extractivas en Chile, Colombia, y Perú. El estudio contempló visitas a un total de 12 industrias: 10 proyectos mineros, un conglomerado forestal en Chile y un proyecto de gas natural en Perú. El objetivo del estudio era entender qué condiciones deben existir para que los proyectos de extracción de recursos naturales contribuyan a un mayor desarrollo nacional y comunitario.
En julio de 2013, la Fundación Ford aprobó una donación de $154,000 a Americas Society para continuar su investigación sobre la extracción de recursos naturales. Con el apoyo de Ford, Americas Society y Americas Quarterly realizarán investigaciones sobre el marco legal y la implementación de consulta previa en proyectos e inversiones extractivas en cuatro países: Chile, Colombia, Guatemala, y Perú. Los resultados serán publicados en la edición de Primavera 2014 de Americas Quarterly.
En cada uno de los países, nuestros investigadores examinaron el marco legal y regulatorio de las inversiones en materia de recursos naturales, la transparencia de dichas regulaciones, el sistema de recolección de ingresos—a través de impuestos o regalías—y su distribución a las autoridades a nivel nacional y local. También analizaron la calidad y eficiencia de las oficinas nacionales y locales en regular a las empresas, promover las leyes, recolectar impuestos y proveer servicios sociales; observaron el contexto comunitario y las relaciones con el estado y los inversionistas y examinaron las prácticas laborales y ambientales de las compañías que invierten en este sector.
Por supuesto, una pregunta central sigue siendo de qué manera podemos definir el desarrollo comunitario y nacional en un sentido más amplio. Para fines de este estudio, hemos adoptado una definición de desarrollo socioeconómico que abarca un conjunto de factores: la manera en la que las inversiones en recursos naturales contribuyen al desarrollo socioeconómico de las áreas que rodean a las actividades extractivas a través de programas públicos y sociales, crecimiento y desarrollo económico;  la manera en la que las inversiones y las políticas públicas generan crecimiento y valor agregado en las economías nacionales y locales; y por último, la manera en la que las inversiones evitan conflictos sociales a largo plazo y contribuyen a consolidar relaciones comunitarias.
Cada caso de estudio presenta una serie de lecciones sobre cómo manejar tensiones comunitarias y hacer frente a las distorsiones públicas y económicas generadas a partir de las industrias extractivas y el boom de recursos naturales a nivel mundial.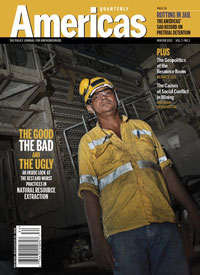 Lea más sobre la extracción de recursos naturales en Americas Quarterly
En la edición de Invierno 2013, AQ AQ examina la extracción de recursos naturales en el hemisferio.
---
ABOUT THIS PROJECT
With support from the Ford Foundation, Americas Quarterly partnered with local researchers in Chile, Colombia, and Peru in 2012 to conduct a study of four natural resource extraction investments in each country. All but two of the 12 case studies—a timber investment in Chile and a natural gas project in Peru—were mining projects. The goal was to understand under what conditions investment in natural resource extraction contributed to broader community and national development.
In July 2013, the Ford Foundation approved a $154,000 grant to Americas Society to continue its research on natural resource extraction. With Ford support, Americas Society and Americas Quarterly will conduct research on laws and implementation of consulta previa in natural resource extraction projects and investments in four countries: Chile, Colombia, Guatemala, and Peru. The results will be published in the Spring 2014 Americas Quarterly.
In all three countries, our researchers examined the legal and regulatory framework that governs natural resource investments; the transparency and predictability of the legal and regulatory framework; the system in which public revenue is collected—through taxes and royalty payments—and distributed to national and subnational governments; the quality and efficacy of the national and local state offices in terms of regulating companies, enforcing laws, collecting taxes, and delivering social services; the community context and relations with the state and investors; and the labor and environment practices of the investing companies.
Of course, a central question is how to define broader community and national development. For this, we defined the broader socioeconomic good as comprising several factors. They include: the extent to which natural resource investment contributes to socioeconomic development in the immediate area surrounding the activities, through public and private social programs and economic growth and development; the extent to which investment and public policy have generated value-added growth in the local and national economies; and last, whether these investments have avoided long-term social conflict and helped to build community ties.
Each case study—written in Spanish—represents different lessons in addressing community tensions and the public and economic distortions caused by natural resource extraction investment and the global resource boom.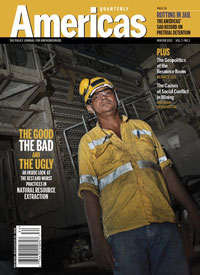 More on Natural Resource Extraction from
Americas Quarterly
In its Winter 2013 issue, AQ examined natural resource extraction in the hemisphere. Explore content from the issue.