Exclusive Interview: Roberto Borge, New Governor of the State of Quintana Roo, Mexico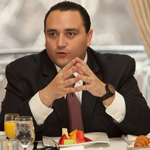 "I plan to bring different political voices to the table to discuss how we should build and create a better state and a better country."
On April 5, Roberto Borge was inaugurated as the governor of the Mexican state of Quintana Roo, making him—at the age of 31—the youngest governor in Mexico's history. In an exclusive AS/COA Online interview, Borge talks about his government's plans to boost environmental stability, infrastructure development, and public safety in his state. He also discussed the new generation of leadership that he considers himself part of, saying: "We have a great country with a vibrant economy and with hard-working people. It is up to us to reposition ourselves on the world stage."
AS/COA Online: Cancun played host in November to COP16. As the new governor of a state that hosted such a major, international climate-change event, what new steps will you take to ensure environmental sustainability?
Borge: First, I want to reiterate that my government will continue to work very hard to host future international events in Quintana Roo. Just this week, we are hosting in Cancun an anti-drug summit with key government officials from more than 40 countries.
I have a strong commitment to the environment. I want to make Quintana Roo the greenest state in Mexico. As a former congressman and deputy chairman of the Environmental Committee, I worked toward promoting strong environmental laws. As governor, I will ensure that all current state laws are applied when it comes to the development of new touristic projects. This who don't abide by the law will face stricter sanctions, because I want to show that we can promote investment in an orderly and sustainable manner. Through the Ministry of Education, we will promote programs in our schools to educate our children to protect the environment. And we also have plans, through our state university, to offer a bachelor's degree in environmental sustainability. My government also plans to work with municipal authorities to modernize the way we handle garbage processing and we will be implementing recycling programs and the way we handle waste.
As a candidate that ran with the support of my own party [the Institutional Revolutionary Party—or PRI] as well as the Green Party, during my campaign I discussed promoting more modern and green friendly infrastructure. We plan to learn from examples across the globe to ensure green friendly tourist destinations. We want to be leaders not just in Mexico, but in Latin America.
 
---
---
AS/COA Online: Given that Quintana Roo is a tourism and commercial hub, what are some of the major infrastructure plans and projects taking place under your leadership?
Borge: Just a few weeks ago we presented an ambitious commercial project known as "Dragon Mart Cancun" that will be the largest exhibition center of Chinese products in Latin America and the United States. Its initial phase will generate at least 5,000 direct jobs with an investment of $150 million dollars from Chinese and Mexican investors. The exhibition center will be built in Puerto Morelos, a small port city, south of Cancun. This will not be a temporary exhibition center, but a permanent place for United States and Latin American investors to come and buy Asian products.
We plan to build solid, sustainable, and clean infrastructure that's high end like in cities such as Frankfurt, Milan, Barcelona, and Tokyo. Quintana Roo continues to be the most important destination for cruises in Mexico and we plan to maintain our role as a key player on this front. Therefore, we will maintain our ports at the highest standards both in terms of security and modern services. We'll work with local investors and cruise companies to ensure the best service for passengers visiting our ports of call.
Another project we're working on in close collaboration with the federal government involves accelerating infrastructure projects that were established through the Plan Puebla-Panama, such as a new international bridge with Belize and a new modern highway that will connect the southern part of the state with Guatemala. I will also work with other southern governors, especially those in what is known as the "Mayan Zone" (Yucatan, Campeche, Chiapas, and Tabasco) to promote new air routes between our states and countries in Central America—especially Guatemala, Belize, El Salvador, and Honduras—in an effort to promote tourism activities.
AS/COA Online: You've expressed an interest in making your state an international place of business. How are regions outside of the Americas—such as Asia and Europe—involved in working toward that goal?
Borge: Dragon Mart is the perfect example of how we are diversifying and attracting foreign investment other than touristic products. While tourism continues to be my state's main economic activity, I will be a governor that will be very active internationally, always selling Quintana Roo as a safe and sustainable investment hub. I want to note that we have an important presence of Spanish capital in Cancun and Riviera Maya, where the most important hotel chains have established a dozen hotels. We will continue to attend the most important tourism fairs in Berlin, London, and Madrid.
AS/COA Online: Quintana Roo hasn't seen the same security challenges as those experienced by states closer to the border with the United States. However, with the Caribbean region seeing an increase in crime rates, what measures are you taking to ensure the state's public safety?
Borge: With security one of my top priorities, I plan to double the budget for security policies. My government wants to work on making our police units more professional, reliable, and accountable. As I said in my campaign, I support the proposal set forth by other governors to create a state police force, eliminating the municipal police as a way to guarantee a more accountable and professional police force. My first government activity upon officially receiving the government was to take the oath of office of the new head of the State Public Security Agency, retired Army General Carlos Bibiano Villa Castillo. We will work with Mexico's Army and Navy to ensure the security of our main federal highways, especially those with neighboring Mexican states and Belize. We will create a secure perimeter along our coasts and work non-stop with federal authorities to ensure the safety of all of the citizens of Quintana Roo and our visitors.
AS/COA Online: With you're inauguration on April 5 you've become Mexico's youngest governor. What do you think the priorities should be for a new generation of Mexican leaders.
Borge: I've always believed that we are the generation of today, not one of tomorrow, despite what many people say when it comes to young politicians, entrepreneurs, or social leaders. I have a commitment to every single person that I am governing for. For that reason, during every day of my administration I plan to bring different political voices to the table to discuss how we should build and create a better state and a better country.
My generation has an opportunity and an obligation to bring back the harmony and peace that has characterized Mexico. We have a great country with a vibrant economy and with hard-working people. It is up to us to reposition ourselves on the world stage. I am part of a new generation of PRI politicians that govern in hundreds of municipalities and several states. We have learned from the past and want to promote a new leadership style—working more closely with the public—that is more transparent and democratic.