EFE escribe sobre los ganadores de los Premios BRAVO 2023
La agencia reporta que líderes del Comando Sur de Estados Unidos, CMPC y Grupo Mariposa y la iniciativa Pix del Banco Central do Brasil serán homenajeados.
Miami, 13 sep (EFE).- Laura J. Richardson, comandante del Comando Sur de los Estados Unidos; líderes de las Empresas CMPC y Grupo Mariposa, y la iniciativa Pix del Banco Central do Brasil, fueron distinguidos con los Premios Bravo 2023, un galardón que reconoce la excelencia y el liderazgo en los negocios y en las políticas públicas en el hemisferio occidental.
En un comunicado, el Americas Society/Council of the Americas (COAS) anunció este miércoles que los homenajeados este año, en que se cumple la vigésimo octava edición de los premios, serán reconocidos en una gala en el Perez Art Museum Miami (PAMM), el próximo 20 de octubre. La general Laura J. Richardson, jefe del Comando Sur de los Estados Unidos, recibirá ese día el Premio Bravo al Líder Hemisférico del Año.
Como la segunda mujer en alcanzar el rango de general de cuatro estrellas en las Fuerzas Armadas de los Estados Unidos y la primera en dirigir el Comando Sur de este país, Richardson ha "fortalecido las relaciones entre Estados Unidos y América Latina" y "ha contribuido a promover la seguridad, la libertad y la prosperidad en el hemisferio occidental", señala el comunicado.
Por su parte, el CEO de Empresas CMPC, Francisco Ruiz-Tagle, recibirá el Premio Bravo de Sostenibilidad del Año. Ruiz-Tagle será reconocido por su "liderazgo dinámico dirigiendo el crecimiento de la compañía y las prácticas de sostenibilidad líderes en la industria".
Con más de 103 años de historia, Empresas CMPC es una empresa chilena multinacional dedicada a la producción y comercialización de madera, celulosa, productos de empaque, productos sanitarios, productos no domésticos y papel higiénico...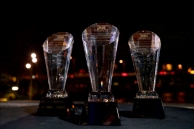 COA Announces the Honorees of the 28th BRAVO Business Awards
Honorees include leaders from U.S. Southern Command, Empresas CMPC and Grupo Mariposa, and the Banco Central do Brasil's Pix initiative.