Colombia's Energy Renaissance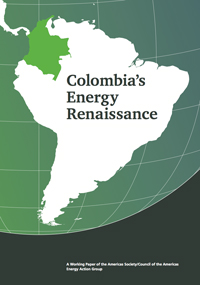 Colombia's Energy Renaissance tells the story of how Colombia has revived its once flailing energy sector over the course of the last decade, developing into one of Latin America's foremost destinations for investment in the oil and gas sector and securing a steady supply of electricity for its growing population. As part of our focus on hemispheric energy issues, the AS/COA's Energy Action Group (EAG)* produced this paper to sum up ideas stemming from a June 2010 roundtable on energy in Bogota, Colombia. Bringing together leading public and private sector representatives for a conversation on key energy issues in Colombia, the EAG's Bogota roundtable explored Colombia's oil and gas regulatory framework, electricity sector, political climate, and environmental challenges. The paper makes several recommendations, drawn in part from that session.
 
---
---
Recommendations:
Colombia should continue to prioritize regulatory and contractual stability to ensure investor confidence.
In order to expand regional energy integration in the electricity and oil and gas sectors, Colombia should seek to address inconsistencies in the regulatory frameworks between Colombia and its neighbors.
Colombia should encourage investment in oil and gas pipelines and expand the power grid to bring electricity to all communities.
Colombia should protect the environment and local communities without stifling development of the oil and gas sector.
Colombia should continue to focus on a long-term strategy for encouraging greater use of cleaner, reliable fuels, such as natural gas, in the energy matrix.
Colombia should capitalize on its clean energy matrix and take advantage of carbon financing.
*Americas Society and Council of the Americas' Energy Action Group brings together the public and private sectors to develop strategic energy policies for the Americas. The EAG hosts forums in cities across the Americas and publishes working papers and recommendations on key energy and climate topics.