Chart: Colombia's 2023 Local Elections
Colombians select mayors and governors on October 29 in local votes that could shape the rest of Gustavo Petro's presidency.
On October 29, Colombians will select all of its 1,102 mayors, 32 governors, and 12,072 councilmembers in a round of local elections. The vote comes at a time when Colombians continue to be unhappy with the state of their country—just 19 percent think it's headed in the right direction. Insecurity, crime, and hunger are the major issues concerning citizens.
Voters are blaming some of those problems on President Gustavo Petro, now 14 months into his term. As the country's first leftist head of state, Petro began his time in office with approval of 56 percent, but it's dropped to 33 percent. These elections give voters the chance to express whether they want more—or fewer—Petro-aligned politicians at the helm. Allies already hold few local seats, and losses could make it hard for his government to get the job done at the local level. Across the country, center-right and right-wing candidates poll well, including in Colombia's two biggest cities, Bogotá and Medellín.
In Bogotá, Gustavo Bolívar, who is backed by Petro's Historic Pact coalition, is down in the polls to center-right Carlos Fernando Galán. The capital allows for second-round mayoral elections, and with no one polling over 40 percent, a runoff is likely. In Medellín, former Mayor Federico "Fico" Gutiérrez (2016–2019), who finished third in 2022's presidential first round, boasts a dramatic 50-point polling lead in the city's mayoral race. If he beats 34-year-old, Petro-backed Juan Carlos Upegui, the fierce Petro critic would have a platform to criticize the president.
The winners of all these races will govern from 2024 to 2027 for a single term, a year past Petro's elected mandate. AS/COA Online looks at the elections in numbers.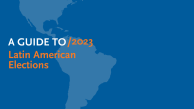 A Guide to 2023 Latin American Elections
AS/COA covers this year's votes in the Americas, from presidential elections to referendums.