Brazil Urges Climate Consensus Abroad as Environmental Concerns Loom at Home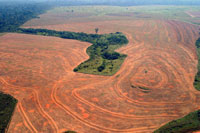 Brazil continues to flex its muscles on the international stage—this week at the UN environmental summit in Durban, South Africa. But despite strong leadership on the environment and reports of decreasing Amazon deforestation, Brazil finds itself under particular scrutiny this year from environmentalists. The Senate passed a controversial forest code law on Monday, which could potentially increase deforestation and promote impunity for illegal loggers. A referendum on Sunday will determine if Para state will be divided into three separate states, which could have consequences for rainforest protection. Construction is underway on Belo Monte, a bitterly disputed hydroelectric dam in the Amazon. All this comes before Rio de Janeiro will host heads of state from all over the world in June 2012 at the UN Conference on Sustainable Development, known as Rio +20. With Brazil in the spotlight on environmental issues, will the government renew efforts to curtail deforestation?
Brazil has shown leadership in urging consensus on definitive climate change goals at the Seventeenth Conference of the Parties (COP17) to the UN Framework Convention on Climate Change. For the past two weeks, Brazilian representatives joined China, India, and South Africa in pushing for the renewal of the Kyoto Protocol, a binding agreement to reduce greenhouse gas emissions that expires at the end of 2012. These four countries, known as the BASIC nations, insist on new emission targets for industrialized countries in order for Kyoto negotiations to move forward. During a sustainability conference on December 6 in Brasilia, President Dilma Rousseff expressed support for the agreement, saying Brazil considers it "essential" to agree on a second phase for Kyoto. She also said that Brazilians believe climate is a "fundamental issue for humanity." In Durban, Brazil's negotiator Ambassador Luiz Alberto Figueiredo said another of Brazil's goals was to make the Green Climate Fund operational, but with a clear timeline and funding structure. The Green Fund, originally proposed at COP 15, would provide up to $100 billion in investments to less developed countries at risk of environmental hazards due to climate change. Brazil is at the forefront of this type of investment, and in 2010 created its own domestic version, called the National Fund on Climate Change. In November, this public-private partnership for domestic environmental investments approved a $129.5 million budget for the year. The fund, which will invest in natural disaster alert systems, forest monitoring, and renewable energy, among other projects, hopes to reach $220.5 million next year.
This week, the Brazilian government eagerly revealed numbers from the National Space Research Institute (INPE), which indicate an 11.7 percent decrease in Amazon deforestation from August 2010 to July 2011. It is the lowest recorded level since deforestation measurements began in 1988. Though the numbers are encouraging, other recent data actually shows increasing deforestation. According to INPE's October 2011 deforestation numbers, 239.5 square miles of forest were destroyed that month, a 51.91 percent increase from September. INPE also measured a 13.56 percent increase in deforestation from January to August of 2011, compared to the same period from the year before.
Deforestation could increase even more due to a new bill under consideration in the Brazilian Congress, environmentalists warn. The controversial Forest Code passed 59 to 7 in the Senate on Monday, and must be approved by the Chamber of Deputies before being sent off for Rousseff's signature in 2012. The law would allow farmers to deforest more land by reducing so-called buffer zones near rivers. While those who illegally removed trees or went beyond the legal limit would have to restore trees they cut down, they would no longer have to pay fines. Former Environmental Minister Marina Silva said the bill offers amnesty to deforesters, and will make it difficult for Brazil to meet emission targets. The agribusiness lobby favors the law, and donated $8.3 million to the campaigns of 50 congressmen considering the bill, marking a 42 percent increase in agribusiness campaign spending since the 2006 elections. But as blogger and Professor Greg Michener points out, Brazilians are overwhelmingly opposed to amnesty for illegal deforesters, and support harsh penalties for illicit deforestation.
Another change could increase Amazon deforestation. On Sunday, residents of Para state will vote on a referendum to divide the territory into three new states: Para, home to the current state capital; Tapajos; and Carajas. Proponents of the split believe the smaller states will be better run with improved public services, while critics think it's a ploy to receive more federal funding. Para is part of the Amazon's "arc of deforestation," with large numbers of ranchers and illegal loggers. Data from this week's INPE report on 2010-2011 Amazon deforestation shows that Para had the highest level of forest destruction in the country. According to The Economist, the proposed state of Tapajos would be 90 percent forest with just over 1 million people, creating the potential for a "loggers' paradise."
But Para already finds itself at the heart of one of Brazil's biggest environmental controversies. It is the site of one of the country's largest hydroelectric projects, the Belo Monte dam. Though environmental licenses were granted for the $11 billion development, federal prosecutors have repeatedly brought the case to court in an effort to halt construction. Environmentalists contend the project would devastate the region's wildlife by flooding 200 square miles and displace 16,000 people. Local indigenous groups say they were never consulted about the project and protests against the dam have been held across the country. But in early November, a judge ruled that construction could continue, pending appeals and discussions with residents.
Learn More: