Audio: Luiz Inácio Lula da Silva, President of Brazil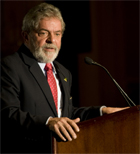 During his acceptance speech for Americas Society's Gold Insigne, Brazilian President Luiz Inácio Lula da Silva spoke optimistically about his country's emergence as a global player, saying, "Brazil has all the proper conditions to help respond to the many challenges that the world confronts in the twenty-first century." Lula emphasized Brazil's influx of investment funds, the growing middle class, and the opportunities presented by biofuel development and—in particular—recent discoveries of offshore oil reserves.
Listen to the English translation:
This text will be replaced
Listen to the original em português:
This text will be replaced
Each year, AS awards the Gold Insigne to an outstanding, democratically elected leader in the Americas. Past honorees include Oscar Arias Sánchez, Patricio Alwyn, Alvaro Uribe, and Oscar Berger. When presenting the award to Lula, AS/COA Chair William Rhodes highlighted the fact that Brazil's poverty level had fallen by over 30 percent during Lula's presidency.